Is this necessary? Australia's biggest companies back same sex marriage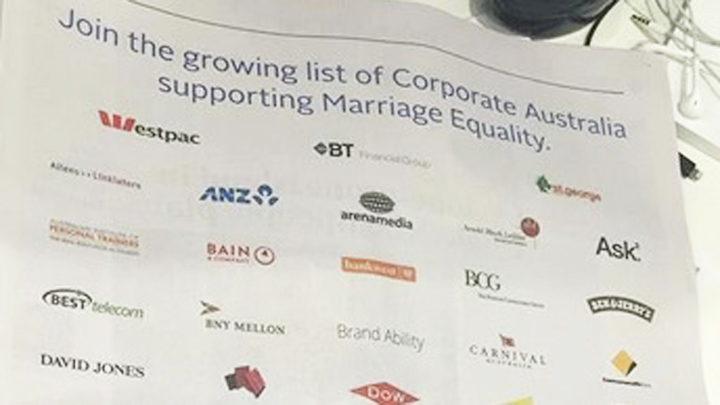 Shouldn't we be more concerned with what our politicians support than what big business do? You'd think so, but regardless, some of Australia's biggest companies have put their brand to a full page newspaper ad in support of gay marriage.
One has to wonder whether this is a ploy to get same sex couples to visit their branches or business knowing they'd be welcomed, or if it's legitimately about big businesses wanting to throw their weight around for the greater good.
If the later was the case, would it not make more sense for the CEOs of the businesses to do put their names down on paper instead? It all seems quite clinical considering the corporations involved include Google, Qantas, Optus, Telstra, ANZ, Commonwealth Banks, Slater and Gordon lawyers, P&O, David Jones and the Football Federation of Australia.
According to Australian Marriage Equality national director Rodney Croome, the corporations approached the organisation send the message that Australia's business community was behind marriage equality.
"It was about corporate saying it's not just about us individually supporting this, we want to do it collectively and send the strongest possible message," Mr Croome said, reports the ABC.
Ad. Article continues below.
He furthered explain that the corporations simply wanted to highlight their understanding and respect for diversity and equality in their staff and customers.
Interesting, Mr Croome said the businesses in the full-page ad were "very sensitive" to Australia's international reputation. Does it sound perhaps like they're the ones who think they'll be left behind?
The debate around marriage equality has heated up this week after a successful referendum in Ireland showed that yes, the majority of the general population support same sex marriage.
On Wednesday, Bill Shorten revealed that he and Tanya Plibersek were going to introduce their own bill this coming Monday. For now, it looks like we might have an uphill battle on our hands, and it doesn't seem the least bit influenced by a huge advertisement in a newspaper.
Tell us, do you think that big banks and companies should stay out of the gay marriage debate? Or is it nice to see some support from the sidelines?