Is this America's oldest high school graduate?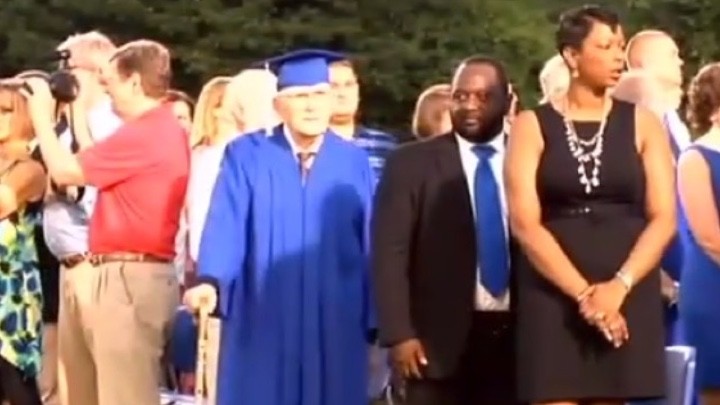 Graduating from high school is a big occasion – imagine doing it in your 90's!
93 year-old war veteran J.D Sexton has just received his high school diploma, resplendent in graduation gown and mortar board in the American state of Alabama.
As a teenager in high school, Mr Sexton was drafted for World War II in 1943 and didn't get the chance to finish his high school studies.  He saw combat in the Battle of the Bulge and was involved in the liberation of thousands of Holocaust victims.
Many Americans left high school before graduation to serve in the military and they weren't eligible to receive their diplomas, however, last year a state law was passed granting high school diplomas to World War II, Korean War and Vietnam War veterans who qualified.
Mr Sexton's wife arranged to have him walk and graduate with the rest of the Highland Home class of 2015 — and, in true graduate fashion, Sexton sported his blue robes and tassel just like the rest of his peers.
Ad. Article continues below.
The 93 year-old told media "I'm just appreciative of the Lord Jesus for letting me live to be 93. It's a wonderful thing to come up here and be with the people and to receive a diploma for high school education."
Supervisor of the Crenshaw Co. Board of Education, Sherry Sport said Mr Sexton's graduation was not only a personal achievement on his part, but is an important lesson for other students. "It sends a huge message to our young people today, for them to value that high school diploma, to value what it means."
It's never too late to graduate. Check out the video of J.D. Sexton receiving his high school diploma.  Isn't he great?