Is NASA about to tell us there is life on Mars?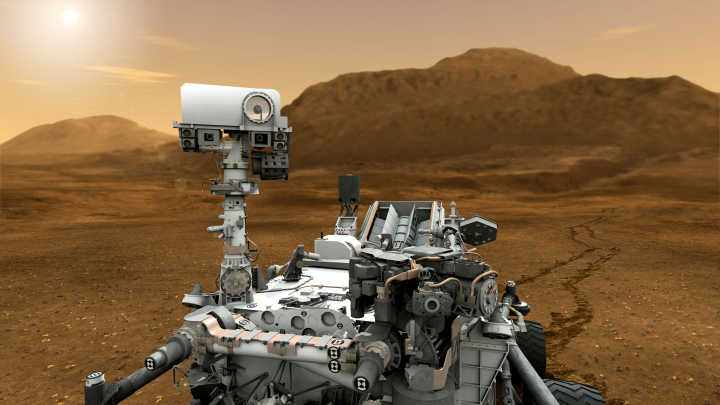 NASA has called a meeting of the world media for a major announcement on Monday in relation to Mars. The US government organisation has stayed silent on what they are going to announce, but the media is pumping with speculation that they may have discovered water, and with it the serious possibility of life on Mars.  Traditionally, NASA have only ever called releases like this for very significant discoveries.
NASA have released a list of names who are listed experts to front the media on Monday, and this is giving everyone insight into the expertise they want in the room to explain the findings.
They've included on the list (source: Inverse) a person named Lujendra Ojha, a Ph.D candidate in planetary science at Georgia Tech, who, in 2011, chanced upon the liquid and inspired further investigation by NASA. Ojha will be featured in the briefing anext to a list of big names in space science:
Jim Green, director of planetary science at NASA headquarters;
Michael Meyer, the scientist leading the Mars Exploration Program;
Mary Beth Wilhelm of NASA's Ames Research Center, also a Georgia Tech grad student; and
Alfred McEwen, a planetary geologist at the University of Arizona, Tuscon.
Ad. Article continues below.
According to RYOT Ojha was conducting an independent project with McEwen when he encountered the possibility of salt water on the planet and caused a stir by detailing the discovery in a paper published in the journal Science.
It was pure coincidence Ojha and McEwen found flows of liquid, briny water — called "recurring slope lineae," or RSL — emerging on Mars' surface during warm seasons; they actually had been looking for past water activity on the planet.
The speculation is that if all the above insights are true, NASA's announcement could be heralding the news that flowing water exists below the surface of Mars. And the presence of water usually indicates the potential for life.
Watch this space.  Do you think there's life on Mars?