Is Mike Willesee's success enough to make you try controversial diet?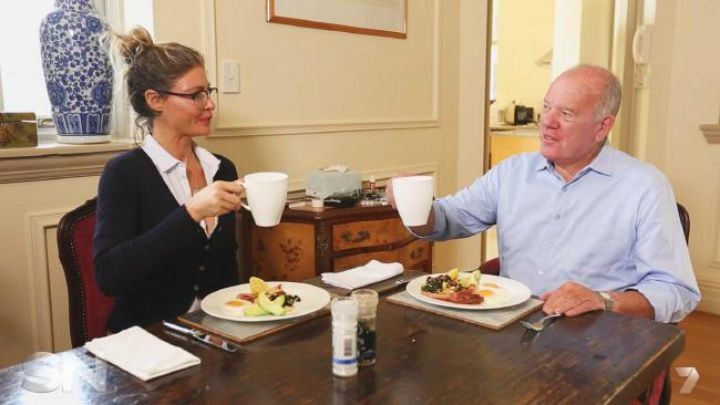 Veteran TV journalist Mike Willesee is caught up in a war of words between dietitians and a celebrity chef – and he says he hasn't felt better for a long time.
Willesee interviewed Pete Evans, champion of the paleo diet movement, over his claims that bone broth (made from slow cooking animal bones for tow- or three days) was better for babies than powdered infant formula.
During the interview, Evans challenged the 73-year-old journalist to try the diet. You could see the uncertainty on Willesee's face, but he committed to a 10-week program.
In one of his video diaries, Willesee explained that professional curiosity was only one of his reasons for trying the paleo diet. He has had two unsuccessful back surgeries, and had developed blood clots on his lungs. In other words, his health was a major concern.
By the end of the 10 weeks, during which he ditched Coke, cut all grains, dairy, pulses and refined sugar, Willesee reports feeling great – the best he has for a long time.
Ad. Article continues below.
"The closer I get to the finish the more I think of what comes after and can I keep it up because yeah it is really got to be more than just what do you do at meal time, it is part of your life," Mike said in his video diary.
"I haven't felt better in a long, long time, the added bonus is that I can now walk freely. So will I stick with Paleo? It's working for me, 10 weeks is just the first chapter."
But that hasn't do much to sway the critics, who have attacked Sunday Night for "blatantly" promoting the paleo diet despite concerns from the Dietitians Association of Australia.
"This one-sided piece seemed to be a blatant promotion of the personal dietary views of one of the network's prime time stars," Claire Hewat, CEO of the DAA told The Daily Telegraph. "The DAA has written a letter of complaint to Sunday Night."
The DAA is largely concerned about Evan's bone broth for children, which was found to have excessively high levels of Vitamin A, which they say could be life threatening for a chid. The organisation is also concerned that the paleo diet flies in the face of current Australian government recommendations to eat whole grains and three to four serves of dairy.
Ad. Article continues below.
Evans says the DAA receives funding from the dairy industry and major foot outlets like McDonalds.
"It's like that around the world. The dietitians association in different parts of the world, in the USA, in the UK, in Australia. They are partly sponsored by multi-national food corporations," he said during an interview of Sunday Tonight.
Watch the interview and Mike Willesee's progress here.
What are your thoughts on the paleo diet? Would you try it?