Is Kate our modern-day Wonder Woman?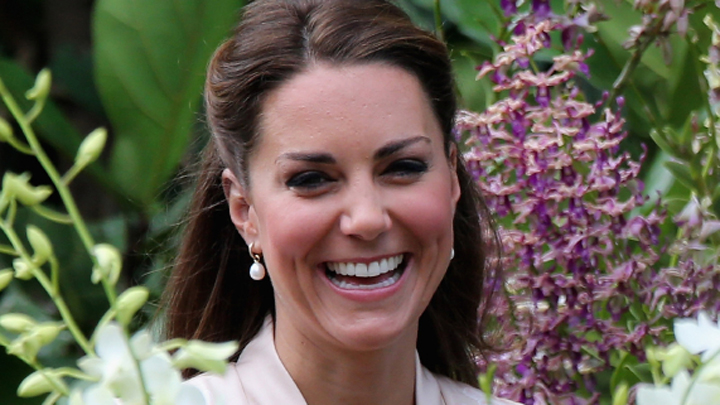 If the Duchess of Cambridge was a super hero, she would definitely be Wonder Woman and I don't mean this with reference to her physique and long flowing brunette hair.
How amazing was Kate at the weekend?
Within two hours of going into labour on Saturday evening Australian time she had delivered the Princess of Cambridge, and by Sunday morning our time she'd taken her beautiful daughter home from hospital – not before appearing on the steps of St Mary's Hospital in London, resplendent in a yellow and white floral dress with babe in arms to introduce the Princess to the world.
When I turned on the television on Sunday morning, I had expected to see a beaming Prince William telling the world's media about the exciting arrival of his daughter. Instead, I got the whole package including the gorgeous Prince George visiting hospital to meet his baby sister and the little Princess in her baby capsule carried by her dad and put in the Range Rover car to head home to Kensington Palace.
Wow! All this within around 12 hours and the only thing left to do was give the little cherub a name. Impressive!
Ad. Article continues below.
No doubt Kate had plenty of help including a hairdresser on standby with curling wand in hand to fulfill her own Royal duties. Yet despite the entourage of assistants, what great pressure the Duchess of Cambridge was under.
At a cost of more than six thousand pounds per night, Kate could easily have afforded to stay a few more nights in the Hospital's Lindo Wing to settle in to being the mother of a newborn again and bond with her baby. The question is, did she really have a choice? Had Kate not left hospital when she did, the media would still be camped outside waiting for the first appearance of the new Princess. So why not get it over with? Face the throng of photographers, give them what they want and get home to privacy to start life as a happy family of four.
Kate probably didn't set a precedent – plenty of new mums in Australian hospitals barely stay one night before they're discharged from hospital to make way for another incoming maternity patient. However, they get to go home without the glare of the world's media spotlight!
I'm not sure I could have done what the Duchess of Cambridge did. After giving birth, I'd take the five-day hospital stay complete with nursing staff, nutritious meals and baby nursery on standby.
Whatever her personal reasons for leaving hospital within hours of delivering her baby, Kate's achievement could best be described as Wonder Woman-esque.
Would you agree? Is the Duchess of Cambridge our modern-day Wonder Woman?