Is Joe Biden rallying for a return to the White House?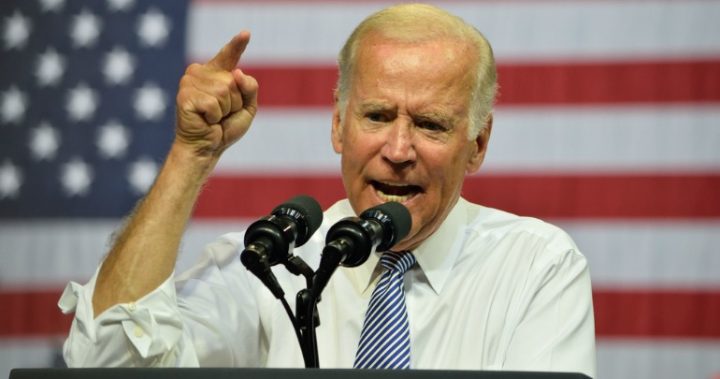 He's flush thanks to a multi-million dollar book deal, but it looks like Joe Biden, former US vice president, hasn't put his political aspirations aside just yet.
Speculation is rife that Biden will take on Republican President Donald Trump in the lead up to the next US presidential election scheduled for 2020.
The Democrat has been no slouch since handing the reigns to Trump's VP Mike Pence in January, establishing the Biden Foundation and the Biden Cancer Initiative in honour of his son, Beau, who died of brain cancer in 2015.
Biden is also one half of the world's most famous bromance – the other half being former US president Barack Obama.
Biden's bromance with Obama has been widely documented, not least by Pete Souza, the White House's official photographer during the Obama presidency.
Ad. Article continues below.
Read more: Joe Biden gives Barack Obama an adorable birthday present
Delivering the eulogy at Beau's funeral, Obama called his vice president his "brother".
"… and I am grateful every day you have got such a big heart, and a big soul, and those broad shoulders," he said. "I could not admire you more."
Ad. Article continues below.
In June this year, Biden also launched American Possibilities, a political action committee that collects and funnels campaign contributions.
On the website, Biden exhorts supporters to "reach deep into the soul of this country and give everyone … the opportunity to achieve the impossible".
In what could be seen as a veiled dig at Trump, Biden went not to say that it was time to look beyond 24-hour news cycles and 140-character arguments.
Read more: Donald Trump's approval ratings are in
"It's time to treat each other with dignity and respect," he says.
Ad. Article continues below.
"Not as opponents, but as fellow Americans. Because that's what we are. This is a time for big dreams and American possibilities."
Biden is 74, which will put him in his late 70s by the time the 2020 campaign is done and dusted, but it seems there's plenty of fight in the old dog yet.
Do you think he'd make a good president? Are you happy with President Trump?