Indigenous AFL star Eddie Betts' reponse to banana thrower couldn't have been better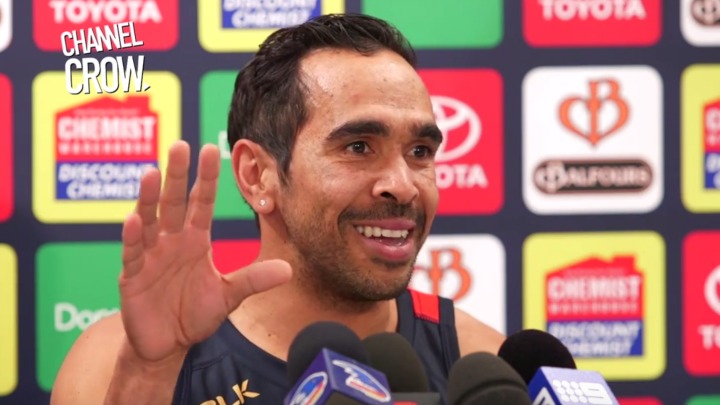 Indigenous AFL star Eddie Betts had a banana thrown at him by a woman during the Adelaide derby game between Port Adelaide and Adelaide Crows on Saturday night but his come back was way better than anyone could've imagined – he kicked five goals in Adelaide Crows' 15-point victory.
A Facebook video appeared on social media showing a woman hurling a banana at the Indigenous player but it was slapped away by team-mate Josh Jenkins.
The woman was then shown in the video making an offensive gesture towards Betts as other Port fans joined in on the abuse but the one who had the last laugh was truly Eddie Bretts.
He celebrated his 250th AFL game in Showdown 41 and ended Saturday night's game with a trademark snap goal from the left pocket to secure the 15-point win at Adelaide Oval.
In a statement released on Sunday morning the Crows club said they were "disappointed and disgusted" by the behaviour of some fans at the game.
Ad. Article continues below.
Port's chairman David Koch said the club knew who she was but had not yet spoken with her.
"We've revoked the membership not only for this year but also for next year as well," he said.
"Whether we take any further action will be decided on the outcome of the motivation and further investigation."
The video showed team-mate Josh Jenkins batting away the banana thrown at Betts.
Ad. Article continues below.
Jamie Christodoulou who was watching, told ABC News he saw the woman throw a banana after Betts had scored.
"A lot of supporters in the area were very disappointed and angered with what she had done," he said.
"We all outed her, I particularly did.
What do you think of this lady's behaviour?