In the path of a hurricane: Would you trust this cruise liner with your safety?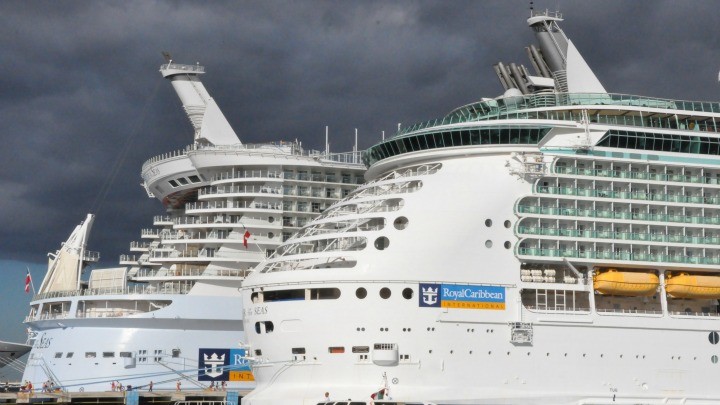 A Royal Caribbean cruise was ravaged by the Atlantic Ocean last weekend, with passenger photos showing widespread damage throughout the ship itself. Now media reports are questioning whether the Captain knew about rough weather forecasts days in advance.
Four passengers were injured aboard the Anthem Of The Seas during its most recent trip from Florida to New Jersey. Crew ordered passengers to stay in their cabins, as furniture was toppled around and the ship was trashed by bad weather. Videos from the incident show enormous waves and powerful winds, with some passengers fearing for their safety.
Now online newspaper Mashable has reported that Royal Caribbean knew about these rough forecasts days in advance. "There was plenty of warning", Mashable reports. "Computer models had projected the rapid intensification of the storm, the track that it took, and the likelihood of massive waves for hundreds of miles surrounding the storm centre — about five days beforehand".
However, Royal Caribbean has said crews did all they could to ensure a safe journey. "We appreciate the patience and cooperation of our guests. We know it was tough day on Sunday and apologise for their discomfort", Royal Caribbean told Mashable. "We also thank our captain and crew for guiding the ship safely back to better weather".
The cruise line is providing a full refund to passengers, and says Anthem Of The Seas is still safe to operate. "These ships are designed to handle these kind of conditions, though they prefer not to encounter them", Royal Caribbean added online.
Ad. Article continues below.
Could these photographs put you off cruising? Would you trust a cruise ship Captain and their crew to protect your safety? Do you worry about bad weather when you travel?
Royal Caribbean's Anthem of the Seas caught in hurricane-force winds on way to Florida https://t.co/gJTtOYbZ9l pic.twitter.com/sOZlK1ABke

— Orlando Sentinel (@orlandosentinel) February 8, 2016
WNY'ers on the Anthem of The Seas ship talk about scary moments as the ship hit horrible weather. Watch at 5 @WGRZ pic.twitter.com/qYkaVYHeOI — Claudine Ewing (@ClaudineWgrz) February 9, 2016
Ad. Article continues below.
Damaged cruise ship Anthem of the Seas returning to New Jersey: https://t.co/MLfU29jcTm Photo by @flatgreg pic.twitter.com/mxXbvDRZAm

— CBS Evening News (@CBSEveningNews) February 8, 2016
Royal Caribbean's new "Anthem of the Seas" sustains storm damage while returning to port $RCL pic.twitter.com/u3DLNc4D6U — Brian Sozzi (@BrianSozzi) February 8, 2016
The Royal Caribbean ship, Anthem of the Seas, was stuck in a hurricane yesterday. Here are some pictures. pic.twitter.com/12QV7S7URN

— Lisa Ayotte (@caribbeandays1) February 8, 2016