'I just count my millions': Tomic spits the dummy after loss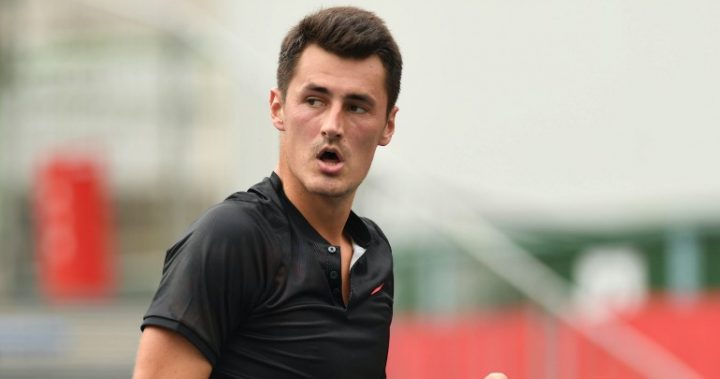 What does Bernard Tomic do with all his spear time these days? Sits at home counting his millions apparently.
The tempestuous 25-year-old put on a petulant display at the weekend after crashing out of the Australian Open qualifier. When asked by reporters where he'd go from the loss, he responded sarcastically.
"I just count money, that's all I do. I count my millions," he said. "You go do what I did (on court). Bye bye."
The former junior champion suffered a 6-1 6-7 (5-7) 6-4 defeat at the hands of Italian Lorenzo Sonego on Sunday. Tomic was attempting to qualify for the Australian Open after being overlooked in the wildcard draw.
Bernard Tomic has crashed out of Australian Open qualification at the final hurdle, before delivering a smug spray to reporters. Those details and more in 7 News at 6pm. #BernardTomic #7News pic.twitter.com/N5igH3KMMv

— 7 News Adelaide (@7NewsAdelaide) January 14, 2018
Ad. Article continues below.
The world No.142, will further slump in the ATP rankings after the loss, a long way from his career high of 17 in the world. This year is the fist time Tomic has missed the Australian Open since 2008.
The petulant display is only the latest in a long line of incidents that have done little to endear Tomic to the public. In 2017, he was handed the second-biggest fine in Wimbledon history after admitting to faking an injury and being bored with tennis following his first-round defeat on the famed grass court.
"I don't know why, but I felt a little bit bored out there, to be completely honest with you," he told reporters in a post-match interview. "So I feel holding a trophy or doing well, it doesn't satisfy me anymore. It's not there. I couldn't care less if I make a fourth-round US Open or I lose first round. To me, everything is the same. I'm going to play another 10 years, and I know after my career I won't have to work again."
Tomic was docked $19,725 from his overall prize money cheque of $64,000. He later enraged fans and critics by saying they were jealous of him because he was rich and they weren't.
Ad. Article continues below.
"You probably don't like me but, at only 24, you guys can only dream about having what I have at 24," he told The Herald Sun. "End of the day, don't like me or whatever. Just go back dreaming about your dream car or house while I go buy them," he added.
Both Tomic and his fellow Australian Nick Kyrgios have faced backlash over their attitudes and unsportsman-like behaviour both on and off court. While both possess and undeniable natural talent for the game, they've been plagued by on-court tantrums and an apparent inability to graciously deal with loss.
Tennis greats Lleyton Hewitt, Pat Rafter and Pat Cash have defended the players, saying they're young and need time to adjust to the pressures of public life and high-stakes sport.
However, it's done little to quell the critics. Sydney Morning Herald writer Peter FitzSimons called Kyrgios "a national embarrassment" in a scathing 2015 column, while Cash recently said talking about Tomic was a "waste of breath".
What do you think of Tomic's comments? Do you think he'll win over the public one day?