"I had been expecting him to die": Philip Seymour Hoffman's partner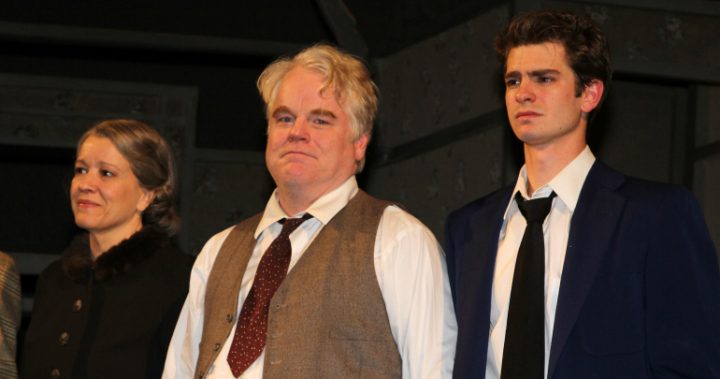 Philip Seymour Hoffman's partner and mother of his three children, Mimi O'Donnell has opened up about the heartbreak of his drug addiction and ultimate heroin overdose in a revealing interview with Vogue.
Speaking for the first time since the star's death in 2014, O'Donnell reflected on how Hoffman's drug addiction took hold of his life and wreaked havoc on hers.
Having been sober for over 20 years, Hoffman raised a red flag for O'Donnell when he told her out of the blue one day, that he felt like having a drink again.
"I thought it was a terrible idea, and I said so. Sobriety had been the centre of Phil's life for over 20 years, so this was definitely a red flag," wrote O'Donnell.
"He started having a drink or two without it seeming a big deal, but the moment drugs came into play, I confronted Phil, who admitted that he'd gotten ahold of some prescription opioids. He told me that it was just this one time, and that it wouldn't happen again. It scared him enough that, for a while, he kept his word."
Ad. Article continues below.
Hoffman threw himself into Mike Nichol's production of Death of a Salesman in a short run on Broadway, which wrapped up in June 2012. O'Donnell said that while it exhausted Hoffman, it didn't have anything to do with his relapse.
"If anything, doing seven shows a week kept him from using, because it would have been impossible to do that on drugs," she wrote.
O'Donnell said she was more concerned about what would happen when the show was over. The actor didn't have any work lined up and had a lot of time on his own, and it was during this time that he started using drugs again.
"As soon as Phil started using heroin again, I sensed it, terrified. I told him, 'You're going to die. That's what happens with heroin,'" O'Donnell wrote. "Every day was filled with worry. Every night, when he went out, I wondered: Will I see him again?"
Hoffman went to rehab several times over the next year, all of which failed to help the star stay sober.
Ad. Article continues below.
In January 2014, Hoffman returned home from filming The Hunger Games in Atlanta, and shortly passed away.
"It happened so quickly. Phil came home from Atlanta, and I called a few people and said that we needed to keep an eye on him. Then he started using again, and three days later he was dead," O'Donnell wrote.
"The circumstances of Phil's death were so public—people around the world knew he was dead an hour after I did—and every detail, from the days leading up to his overdose to his funeral, were, and remain, all over the Internet. And so I need to keep the rest of that awful time private. I had been expecting him to die since the day he started using again, but when it finally happened it hit me with brutal force. I wasn't prepared.
"There was no sense of peace or relief, just ferocious pain and overwhelming loss. The most difficult—the impossible—thing was thinking, How do I tell my kids that their dad just died? What are the words?"
Addiction of any kind can have such devastating effects for the family. Has your family had to deal with addiction?