How will Melanie Trump compare to Michelle Obama?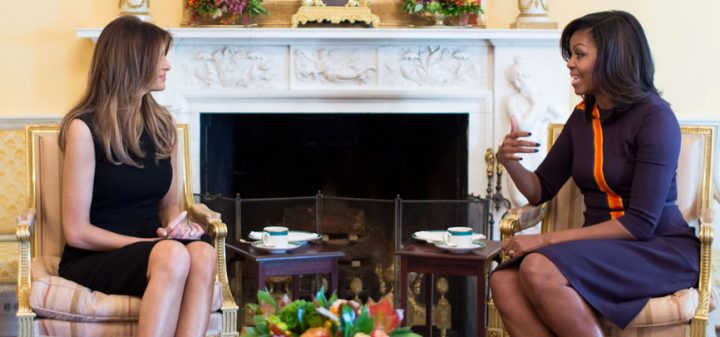 In just a few days the United States of America will swear in their 45th President with Donald Trump. With a new President comes a new First Lady and like most of the conventional procedures around being President the Trump Presidency will be handling the role of the First Lady differently as well.
Ad. Article continues below.
Melania Trump will be part of a very small group of First Ladies that didn't move into the White House. Melania has stated that she wants to stay in New York so that her son can stay in his private school at least until the end of the school term. She will join First Ladies Anna Harrison and Martha Washington as the only First Ladies not to move to the White House, though all for different reasons.
Anna Harrison didn't get the chance to move as her husband William Henry Harrison contracted pneumonia after not wearing a coat at his inauguration and died a month later. Anna was preparing to move when she got the news. Martha Washington didn't move into the White House for the small reason of it didn't exist yet.
Kate Anderson Brower, the author of the book First Ladies, told ABC, "I think that Melania Trump not moving to Washington for the first few months at least is really tremendous and unprecedented". She added, "Every first lady has moved to the White House. It is an incredible honour to be the first lady.
"You have a huge platform; you can do a lot of good. I think that she'll eventually feel pressured to move to Washington."
Many of the staff don't know what to expect from Melania's role as First Lady after the experience they had with Michelle Obama. Ms Anderson Brower said, "I think Michelle Obama was ground-breaking as the first African-American first lady absolutely. But I think if we go back and look in 100 years from now, she will be remembered as a very traditional first lady in a lot of ways". She concluded, "She was a mum in chief. That's what she wanted to do, was to take care of their two daughters, and she did that very well."
How do you think Melania will do as First Lady? How do you think Michelle will be remembered?