How being bigger than the other kids is making this young Aussie famous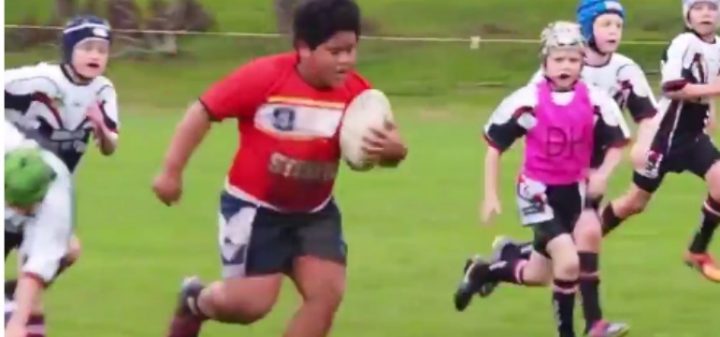 If you were bigger than the other kids your age at school, you'll more than likely know what it's like to be judged or picked on.
But that's not stopping one Aussie youngster who has become an overnight sensation on social media for just that.
Nine-year-old Meaalofa Te'o is a junior rugby league player from Victoria.
You might wondering what has people talking about him?
Well, Meaalofa is not only much bigger than most kids his age – he's also got some incredible rugby league skills.
Ad. Article continues below.
How did his brush with fame start?
A video of the junior footy player in action at a carnival in Canberra has been shared on the USA Rugby Sevens Twitter account – and suddenly Meaalofa has been mentioned in major publications and news channels across the world.
The video has had more than 1.4 million views and tens of thousands of shares.
On Twitter the USA Rugby Sevens captioned the video of the youngster in action with the words "Pure. Carnage."
Ad. Article continues below.
Source: Twitter
In the Washington Times he was referred to as "absolutely brutal" and "a miniature version of a full-grown rugby league player".
Fox Sports US called him a "human truck", while French sports website sports.fr described him as a "veritable force of nature".
So should we be using his size and weight to describe him?
Ad. Article continues below.
No doubt you've heard the debate raging amongst parents about whether kids should play in teams based on height and weight to reduce the risk of injury to smaller players.
Well, as one mum whose son played against Meaalofa reportedly said on Facebook – he's just doing what he's supposed to.
"Both teams played really well and number 17 (Te'o) is only doing what he's supposed to do, scoring tries in a game of football, nothing unfair there!!," she wrote.
What do you think? Are terms like "human truck" acceptable to describe Meaalofa? Or is any recognition of his footy playing talents great?