How a Facebook post saved a Channel 7 newsreader from alcohol addiction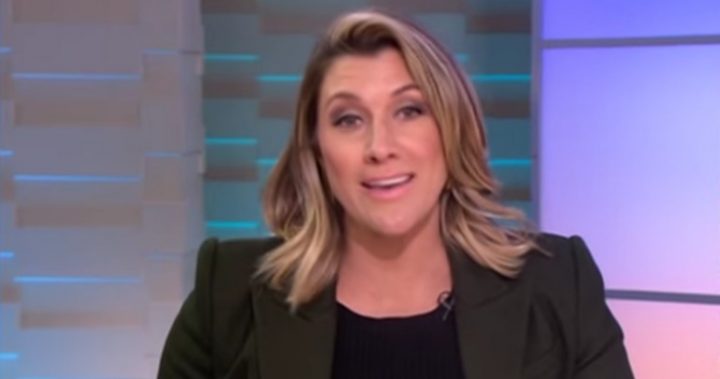 You might recognise Talitha Cummins as the newsreader on Weekend Sunrise on Channel 7.
But few know about her struggles with alcoholism.
That was, until she accidentally outed herself as an alcoholic on social media.
Speaking to the Sun Herald ahead of her appearance on Australian Story tomorrow night, Talitha revealed the accidental Facebook post was the best mistake of her life.
"I wasn't ready to come out to the world and wanted to delete the post [a blog for the Hello Sunday Morning forum] but accountability on that scale is great for sobriety," she said.
Ad. Article continues below.
"It was around the time when you didn't look at Facebook every two minutes on your phone, you had to log onto a computer and when I checked that it was also public on my page I saw the responses had just blown up. People were really supportive."
It turns out, the post came just four months after her final drink.
You might be wondering how serious her alcoholism was.
Well, apparently at the peak of her addiction she could drink four bottles of wine in one sitting.
Her friends also reportedly noticed something wasn't right when Talitha drank three bottles of champagne during a quiet night in.
Ad. Article continues below.
And even worse, she was rushed to hospital twice to have her stomach pumped and almost lost her job with Channel 7.
Talitha has described herself as "the modern face of an alcoholic".
"I was professional, well educated and high-functioning but it could've been much worse and I really think we need to look at that label and reassess," she said.
So, how did she get sober again?
Ad. Article continues below.
Even after she broke down to her boss and signed up to Alcoholics Anonymous and attended daily meetings for 90 days, Talitha was still "obsessed" with alcohol.
She also reportedly took a drug that made her violent ill when she drink.
Four years on, the newsreader remains sober and is married to former Cronulla Sharks player Ben Lucas.
Talitha will return to work at Channel Seven next year, having welcomed her first child Oliver nine weeks ago.
What do you think? Have you ever had issues with alcohol?