Hockey and Shorten agree: time for a republic?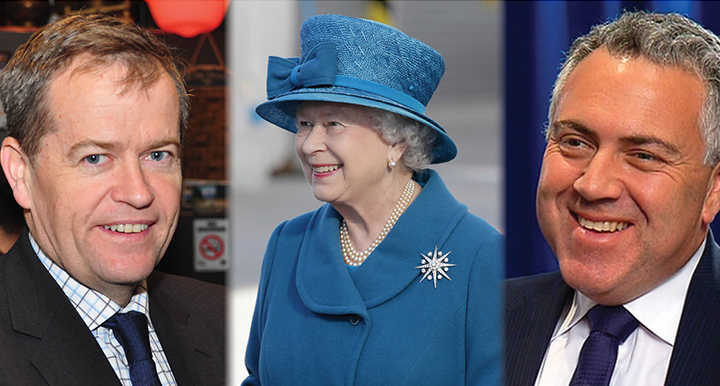 Joe Hockey made headlines yesterday, but it wasn't his performance at the National Reform Summit, it was the announcement that he was leading a renewed push for Australia to become a republic.
Mr Hockey's friend Peter FitzSimons told the National Press Club that the treasurer and Labor senator Katy Gallagher are forming a Parliamentary Friendship Group to revive debate about the issue, which has been effectively dormant since the failed 1999 referendum.
It's a surprising move, considering Mr Hockey's boss is an adamant monarchist. What's more surprising is the crossbench support. Even Bill Shorten agrees with Mr Hockey, tweeting his approval:
It's time for Australia to become Republic and I welcome the support of anyone – including @JoeHockey – in helping make this happen.

— Bill Shorten (@billshortenmp) August 26, 2015
Ad. Article continues below.
The timing of the announcement has been questioned. The Deputy Prime Minister suggested Hockey's mind should be on the job at hand – reforming the economy – rather than launching the republican debate.
Warren Truss said, "We've got important issues to deal with, like the economy and managing difficult international issues, the security of this country. I think those are the sorts of things I'll be giving my priority to."
It's also an interesting time to be launching the debate considering we are just weeks away from an historic milestone: on September 9, the Queen becomes the longest-serving monarch, beating her grandmother's record.
An Essential Media survey found 47 per cent of Australians support replacing the British monarch with an Australian head of state, with 24 per cent undecided, and only 29 per cent opposed
Some 57 per cent of Australians support holding a 2020 national vote on having an Australian head of state, as proposed by Mr Hockey, the survey found.
Ad. Article continues below.
But the most important question remains: who would be head of state in Australia i f the monarchy were removed? Is Australia strong enough to go it alone?
Tell us: do you support Joe Hockey's push for a republic? And do you think his timing is off?