Hillary Clinton beats the Queen as world's most admired woman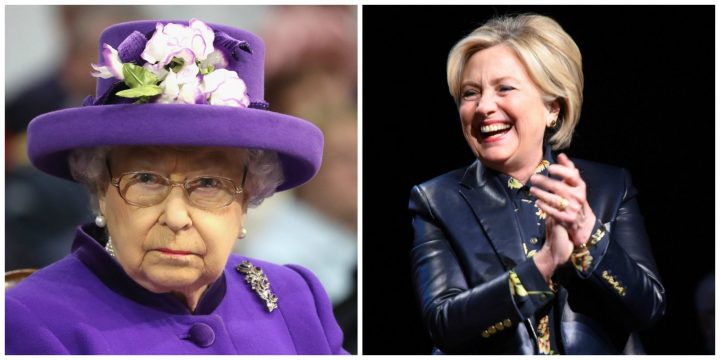 A poll has revealed the most admired woman and man in the world according to Americans and once again Barack Obama and Hillary Clinton have come out on top. 
The results of the Gallup poll are based on the telephone interviews of a random sample of 1,049 adults, aged 18 and older, from across the United States. 
Americans named Clinton as their most admired woman, obviously not caring that she lost the  2016 presidential election race.
The Democrat is no stranger to the title; she's won 16 years in a row has has been awarded the title 22 times altogether. 
Queen Elizabeth and Angela Merkel tied for 5th place after Michelle Obama, Oprah Winfrey, and Elizabeth Warren.
Ad. Article continues below.
Other women in the list included Republican Condoleeza Rice, first lady Melania Trump, US ambassador to the UN Nikki Haley, the Duchess of Cambridge and singer Beyonce Knowles.
While Clinton came out on top, Gallup notes she may have difficulty retaining her title in the coming years as her political career winds down.
The US first lady looks to be a future contender for at least a top five spot, with her popularity rising significantly since her husband took office.
Ms Trump's favourability rate stands at 54 per cent, up from 37 per cent in January 2017.
On the flip side Americans named Barack Obama as their most admired man. He was followed by current President Donald Trump.
Ad. Article continues below.
The other candidates in the top 10 list included Pope Francis, Rev. Billy Graham, Republican John Mcain, tech pioneer Elon Musk, politician Bernie Sanders, philanthropist Bill Gates, Israeli prime minster Benjamin Netanyahu, Amazon CEO Jeff Bezos, the Dali Lama and US vice president Mike Pence.
Gallup believes that Barack Obama, like Clinton, "may fade in prominence the longer he is out office," noting that former presidents rarely win.
According to the results, a quarter of respondents couldn't name a man or a woman they admire most and the remainder named relative or friend as their most admired man or woman.
Who do you admire most? Do you agree with this poll?