Hillary Clinton and Donald Trump trade hilarious insults at charity event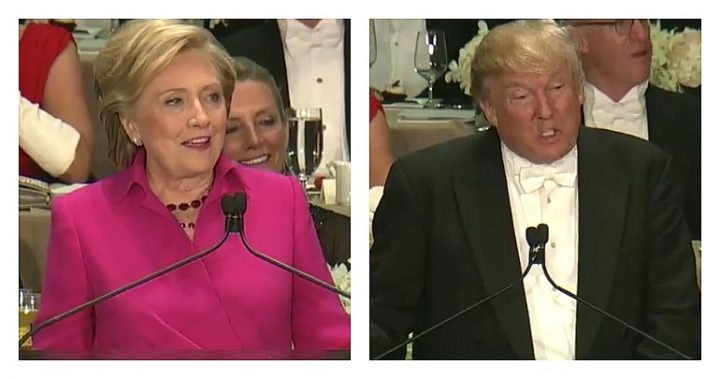 With the election drawing to a close, Donald Trump and Hillary Clinton have taken one last chance to poke fun at each other while attending the Alfred E. Smith Memorial Foundation Dinner in New York.
The dinner is a traditional event for presidential candidates, with nominees usually using their speeches on the night to make a few self-deprecating jokes about themselves and give the audience a good laugh.
While they delivered on the 'giving the audience a laugh' part, both candidates decided to mostly excuse themselves from the funny one-liners and have a go at their rival instead.
Mr Trump spoke first, giving a speech that received a mixture of laughs and boos as he made fun of Hillary's wealth and his wife Melania's plagiarized speech from Michelle Obama.
"I have no doubt that Hillary is going to laugh quite a bit tonight, sometimes even at an appropriate moment," he said.
Ad. Article continues below.
"And even tonight with all of the heated back and forth between me and my opponent we have proven that we can actually be civil with each other … Hillary accidentally bumped into me and said 'pardon me' and I very politely replied let me talk to you about that after I get into office."
He then poked fun at her fundraising campaign and her corporate speeches, which she has been paid tens of thousands for in the past.
"This is the first time ever that Hillary is sitting down with major corporate leaders and not getting paid for it," he said.
Next he put his wife Melania in the firing line.
"You know the media is even more bias this year than ever before. Michelle Obama gives a speech and everyone loves it … my wife gives the exact same speech and people get on her case and I don't get it. I don't know why.
Ad. Article continues below.
"And it wasn't her fault!"
Ms Clinton was up next and while she mostly took the high road, she wasn't about to let Trump get away with the jibes without hitting back with a few of her own.
"I took a break from my rigorous nap schedule to be here," she said, making fun of the fact that her rivals have branded her too old and tired to be president.
"And as you've already heard it's a treat for you too because usually I charge a lot for speeches like this."
Ad. Article continues below.
She went on to have a go at Mr Trump for his treatment of women and confession that he rates them on a scale of one to 10.
"Donald looks at the Statue of Liberty and see's a four, maybe a five if she loses the torch and tablet and changes her hair. Come to think of it, you know what would be a good number for a woman, 45," she said, referring to the fact that she would be the 45 president if she wins the election.
She also made fun of herself for being too "boring".
"People say I'm boring compared to Donald, but I'm not boring. I'm the life of a party, I've been to three."
Who do you think had the best jokes? Who do you think would be a better president? Did they give you a laugh?