Hilarious video mocking Centrelink controversy goes viral on social media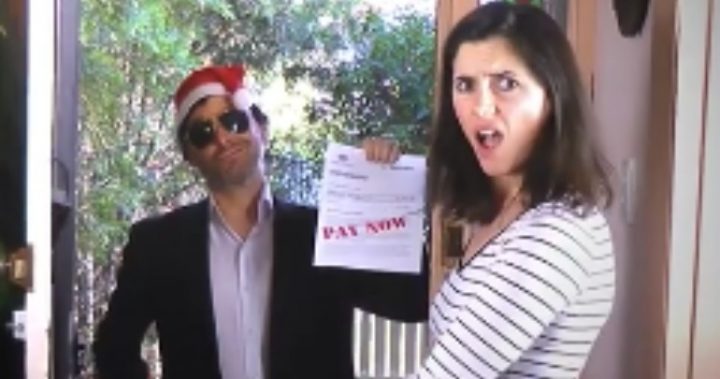 In the past week one of the biggest stories you've probably read or heard on the news is the Centrelink debt scandal.
No doubt you know all about the letters sent to people telling them they owe money to Centrelink, and maybe you've received a letter yourself.
While many have reacted to this news with anger and frustration, there's always someone who is going to find the humour in every situation.
A video, mocking Centrelink and their debt letters has gone viral on social media and it's got millions of us laughing along.
Produced by The Juice Media, the video is a mock ad explaining the debt letters.
Ad. Article continues below.
It's been viewed more than a million times and shared 44,000 times on Facebook in just a day!
"Hello, I'm from Centrelink," the mock video starts.
"Did you recently commit the crime of accessing social security? If so, you will have received a polite letter from us over the Christmas holidays indicating you might need to pay us a shit load of money.
"You may also receive a visit from our friendly debt-collectors. Merry Christmas."
If that wasn't funny enough, the mock ad goes on to take the mickey out of Centrelink even more and addresses the many politician's expenses scandals of recent times.
Ad. Article continues below.
"We're here to reassure you Centrelink's algorithm is not malfunctioning. It's doing what we asked it to: sending out a clear message to poor people that this Government f***ing hates you," the video states.
"Above all, it's distracting you from the actual bludgers who really know how to rort taxpayers.
"That's why we're going after the most vulnerable people like single-income mothers and people with disabilities… rather than billionaires who stash their money in corporate tax havens or the top third of companies in Australia that pay no tax or ministers who blow public funds on private flights to their own weddings, parties and house-buying sprees."
If you haven't seen the video, it's doing the rounds on social media.
Watch it below and give yourself a laugh this afternoon!

What do you think? Did you find this funny?