Hilarious mistake has wedding RSVP card going viral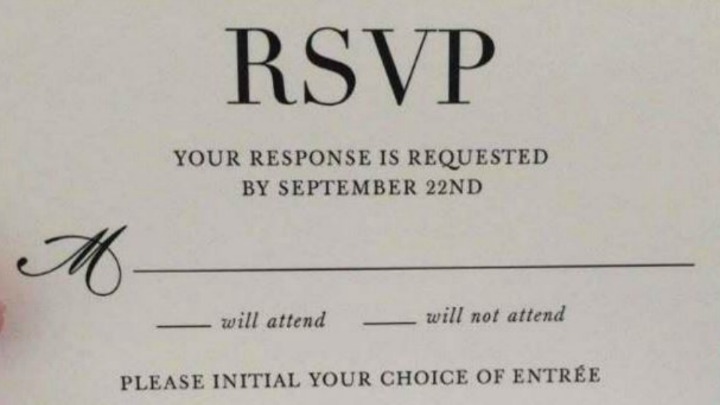 If you've ever planned a wedding you'll know how much effort goes into planning, especially when it comes to deciding what your guests will be eating on the day. However, a small mistake on the RSVP card below has had a drastic impact on what guests at this wedding can choose.
Ad. Article continues below.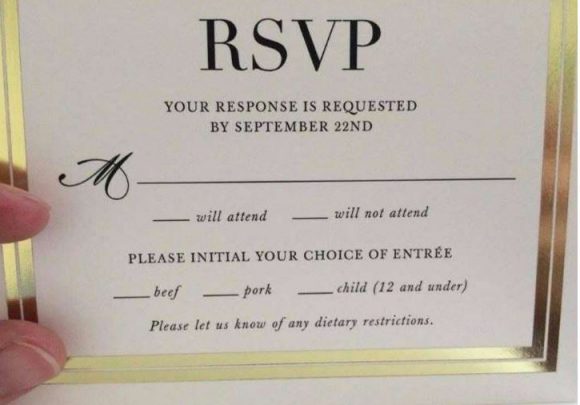 Not only can you choose beef or pork, but children (those 12 and under) have somehow also been added to the menu. You'd have to assume that what this bride and groom really meant was that there is a children's menu option available, but good heavens that's quite a stuff up.
Since the RSVP card was posted on Reddit, along with the caption 'I'll have the 10-year-old, please, medium rare…' it has been making the rounds of the internet and giving everyone a damn good chuckle.
Knowing how stressful preparations and the lead up to the Big Day can be, it's not surprising that no one spotted the error prior to sending out the invitations.
Let's just hope though that the couple has a solid sense of humour and can poke a bit of fun at themselves and that any children attending that wedding actually survived the day.
Do you proofread official letters and documents before sending, signing or responding? Did this give you a laugh today?