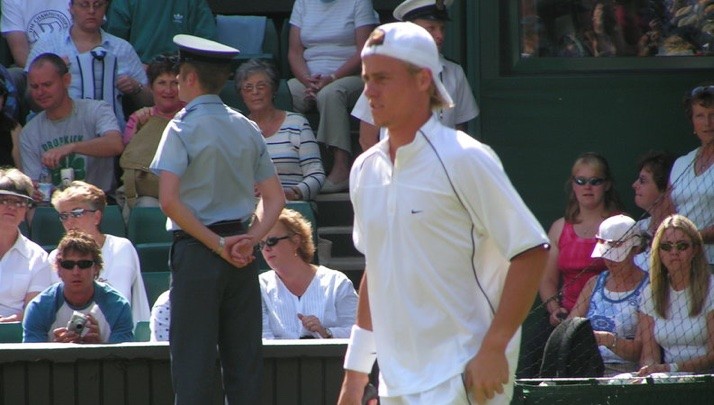 He entered our lives as a spritely yet feisty 15-year old at the 1997 Australian Open, and there's no doubt Lleyton Hewitt, will be remembered long after his final Wimbledon campaign draws to a close in the coming weeks.
Hewitt, our most successful tennis star since Pat Rafter, was always regarded as somewhat of a surprise packet on the court. Certainly, he was not the fastest or most powerful player to grace the major courts, but what Hewitt lacked in service game or powerful stroke play, he made up for in skill, speed and wit…with a whole lot of "C'MON!
Backing up his US Open in 2001 with a win on the grass at Wimbledon a year later, Hewitt lofted the prized trophy for the first time, by an Aussie, since Pat Cash's win in 1987. He topped the world rankings in 2001 and 2002, at the time the youngest player to do so, and he is the most successful Davis Cup player in history.
He did this despite being sandwiched between two of the biggest era's in tennis history – that of Pete Sampras and Roger Federer. He went on to win 30 career titles at a win/loss ration of over 70%, earning himself more than $20,000,000 in prize money.
He nursed Australian tennis through some fairly dark days where depth of talent hitting the world stage was probably at an all-time low. Now, as he prepares for his final appearances on courts across the world, he leaves Australian tennis is a much better state with a plethora of new talent coming through the ranks.
Ad. Article continues below.
Hewitt's love for the game, his country and the crowd have always shone through. Despite a little controversy here and there (and let's face it, it's tennis, so there's always just a little controversy), he has been the doyen of tennis in this country for a very long time. His love of Australia has probably dictated the terms of his own exit from the game.
Hewitt will captain the Davis Cup team later this year before making what is rumoured to be his final appearance at no other than Melbourne Park for the 2016 Australian Open. The fans will no doubt give him a rousing reception irrespective of the court he appears on, or the round he wraps up a stellar career in.
Perhaps his career is best summed up from the greatest ever, Roger Federer, who according to the ABC, rated Hewitt as "a grass court pioneer, who showed a generation how to do it".  He went on to say:
"He hits that flat ball, helps his serve, unbelievable slice, good at net, he's fast, low to the ground. He's got so many things going for him.
"I've always enjoyed watching him. Playing against him has been cool at times, not always so much fun.
Ad. Article continues below.
"A feisty competitor, one of the toughest I always had to play against".
What will you miss most about Hewitt? His energetic 'C'MON!'? His precision backline game? Or just the fact that against so many formidable opponents – some of the best ever – he never once gave up?