Hetty Johnston's emotional plea to the public to help find William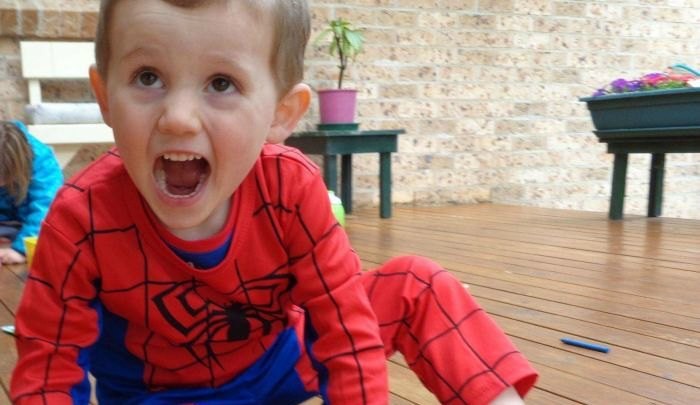 Hetty Johnston's voice was thick with emotion this morning as she announced the launch of a new campaign to find missing boy William Tyrrell. The founder of child protection advocacy Bravehearts choked up as she read a letter from the little boy's father begging the public, "Please don't give up on our boy. Don't give up on bringing William home."
Bravehearts's new national Where's William? campaign aims to help Police in their search for the little boy who disappeared from his Nana's home in Kendall NSW on September 12, 2014.
Today is William's fourth birthday.
Ms Johnston said, "William's disappearance dives into the hearts of entire communities, the happy face of the bright-eyed little boy in his Spider-Man costume, innocent and playful one minute; vanishing seemingly without a trace, the next.
"But, children just don't vanish without a trace," she said.
Ad. Article continues below.
"Somebody saw something.  Somebody knows something and that somebody can help us find William and bring him home."
"William's family and friends are heartbroken not knowing what has happened to their beautiful little boy, particularly today, on William's fourth birthday when there should be joy instead of despair; happiness instead of sorrow; laughter instead of tears."
Ms Johnston read out a statement by William's heartbroken father, which described in detail the grief felt the little boy's sister, and the way the family has been torn apart,
"We find it hard to be a family of any normality without him with us every day. Not a day, an hour or a minute goes by without there being a reminder of him and the massive gap in our family we are forced to face and with not an answer in sight."
Police believe William might still be alive and could be anywhere in Australia. The Bravehearts campaign is designed to raise public awareness throughout the nation and public are asked to come forward with any information that could help with their investigation.
Ad. Article continues below.
The campaign includes a website: whereswilliam.org; Facebook page: Where's William Tyrrell?; and hasttags for social media: #WheresWilliam #BringHimHome #WilliamTyrrell #MissingBoy.
William's family, who can't be named, have released more information about their son, including a detailed description in the hope someone will recognise him and contact Crime Stoppers on 1800 333 000.
Ms Johnson said, "It is not okay that children can simply disappear, that children are harmed by adults. Even the smallest piece of information that someone may think is unimportant may be the critical missing piece in the puzzle that can help Police find out what happened to William."
Please help us spread the word about this important campaign.