Helen Mirren stuns slinky black dress and pearls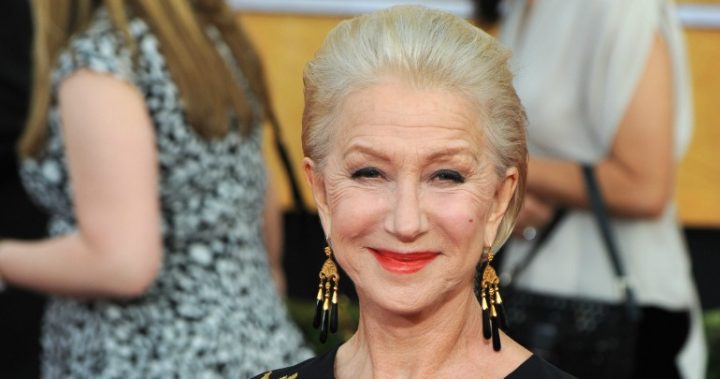 Helen Mirren has made another stunning appearance on the red carpet, this time at the Elle Women In Hollywood awards where she was honoured for her amazing career and achievements.
The Dame put her best foot forward in a gorgeous ankle-length black dress complete with black heels, pearls and a splash of red lipstick to finish off the look.
She certainly looked beautiful, and gave the young starlets a run for their money, but it was her brilliant speech that really brought the house down.
Ad. Article continues below.
While acceptance speeches at these kinds of events can often be soppy or rambling, Helen took things to the next level by giving some life advice to the audience.
After being handed her award, Helen graciously told the young crowd she was going give them a few words of advice about things she has learned along the way.
"Feel free to pass these along," she said before listing off her top five tips for a happy life.
Ad. Article continues below.
• "Never drink alcohol, unless you're celebrating something, upset or something, or if it's a day that ends in the letter Y. And never drink when you're driving."
• "There are no rules about love, I don't believe, but don't be in a rush to get married. Honestly. I married Taylor much later in my life and it's worked out just great. Now give your partner the freedom and support to achieve their ambitions, very important. And that goes both ways, men and women."
• "At the blackjack table, always split aces, eights and nines. Believe me, it really improves the odds."
• "Connect with friends daily. I don't mean on Facebook. Better to have three great friends than 300 friends on social media. Friends you really talk to."
• "And finally, finally, ignore anyone who judges the way you look. Especially if he or she is some anonymous miserable creep lurking on the internet or is a bloated, small-headed, dinosaur-y-handed candidate for president."
Ad. Article continues below.
She finished her speech with by taking a little dig at presidential nominee Donald Trump and his comment about Hillary Clinton being a "nasty woman".
"To make you proud that you chose to honour me tonight, I'm going be the nastiest of all nasty women," she said to a big round of applause.
Are you a fan of Helen Mirren? Would you wear something like this?