Helen Mirren stuns in the perfect purple dress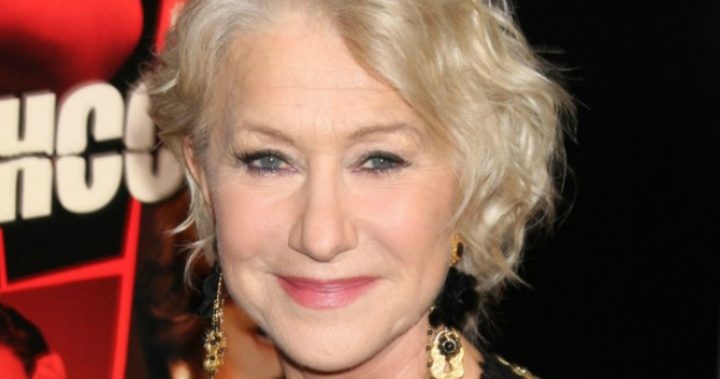 Helen Mirren has made a stunning appearance on the red carpet in what might be one of her best looks yet.
The actress was supporting her husband Taylor Hackford at the premier of his new movie 'The Comedian', starring Robert De Niro, and the pair posed happily for the cameras and fans.
Helen looked beautiful in a bright purple dress featuring long sleeves, a three-quarter length cut and a simple tie around the middle.
She completed the look with rose gold accessories and nude heels. Beautiful!
Ad. Article continues below.
Taylor's movie is already garnering talk of awards with many hailing Robert's performance as one of his best yet.
The film is about Robert's character Jackie, who is a comedian past his prime trying to reinvent himself.
It also stars Danny DeVito who plays Robert's younger brother.
Helen and Taylor seemed to be enjoying their night out together, laughing and playing up on the red carpet.
Ad. Article continues below.
Just weeks ago, Helen was praised for her speech in the lead up to the US election where she called on women to vote for Hillary Clinton to send Trump a message that they could not be messed with.
She also shared what she called the best advice she had learned over the years.
1. "Never drink alcohol unless you're celebrating something, upset about something or it's a day that ends in the letter y. And never drink when you're driving."
Ad. Article continues below.
2. "There are no rules about love, I don't believe—but don't be in a rush to get married. Honestly, I married Taylor much later in life and it's worked out just great. But give your partner the freedom and support to achieve their ambition. it's very important and that goes both ways for men and women."
3. "At the blackjack table, always split aces, eights and nines. Believe me, it really improves the odds."
4. "Connect with friends daily and I don't mean on Facebook. Better to have three great friends than 300 friends on social media—friends that you really talk to.'
5. "And finally, ignore anyone who judges the way you look, especially if he or she is some anonymous miserable creep lurking on the internet or is a bloated small-headed dinosaury hand candidate for president."
Would you wear something like this? Are you a fan of Helen Mirren?