Helen Mirren gives her beautiful perspective on death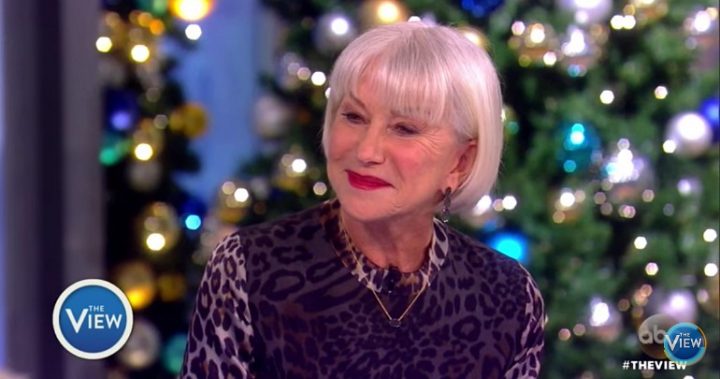 She's been through a lot this year dealing with the death of two of her closest friends, but Helen Mirren has come out the other side with a refreshing view on dealing with death.
Helen stopped by The View for a chat about her new movie, in which she plays the role of death.
This year, Helen lost two of her closest friends, actor Alan Rickman and producer Garry Marshall, but instead of focussing on her sadness, she said she's learned a valuable lesson.
"It's about finding beauty and light in the darkest of moments. In my experience of life, which is now getting to be quite a long experience, I have witness this and seen this.
"It's a very difficult concept to grasp when you're in the depths of despair, but it's bringing you back into the natural way that life is."
Ad. Article continues below.
She said she was surprised by how much she laughed at the funerals of her friends this year as they were more about celebrating the good than languishing in the sad.
"Death can be hilarious in many ways. I'm at an age now where I start going to lots of memorials. My darling friend Alan Rickman died last year, the wonderful Garry Marshall… These were such great people so when you go to their memorials it's always very funny and there are such great stories that come out of it.
"Of course you feel sad that you've lost your beloved friend, but you also feel joyful and enlightened and energised about this beautiful life that this person has lead.
"I'm a great believer in learning, and life is a constant learning curve, so I learned from these peoples lives.
"In a weird way death is the thing that reveals the amazingness of life."
Ad. Article continues below.
Her comments are being hailed by many has a beautiful way to look at life and death and find the connection between the two.
While death can leave of us filled with an all-consuming sadness, many are saying it's nice to look at it from this perspective as well and celebrate the wonderful lives of our loved ones.
What do you think? Have you struggled to deal with the death of a loved one? How did you get through it?