Heartbroken Chihuahua refuses to leave dead owner's gravesite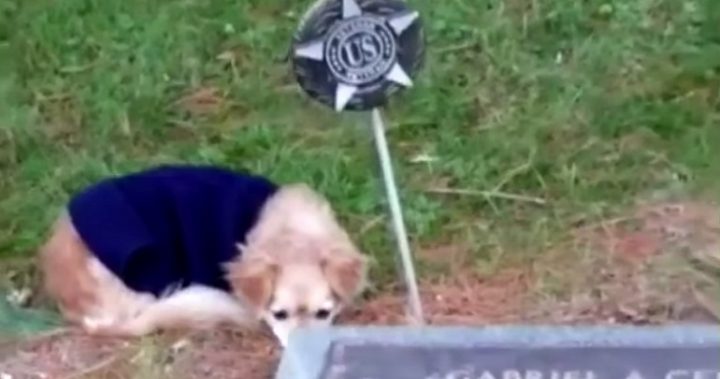 If you love dogs, you may want to get the tissues ready for this next story. A heartbroken Chihuahua named Dita is melting hearts across the world after showing incredible loyalty to her late owner.
The five-year-old dog was left orphaned when her 86-year-old owner passed away in September. Although she's been taken in by her owner's daughter and son-in-law, Theresa and Mike Morini, little Dita is still mourning the loss of her mother.
In a clip uploaded to YouTube, Mike and Theresa can be seen taking the adorable pooch to the gravesite of her owner. When it's time to leave, Dita refuses to move from the spot where her owner was laid to rest.
"C'mon Dita, let's go," the owners can be heard saying in the clip. The dog, dressed in a jumper, refuses to budge and remains curled up next to the tomb stone.
Ad. Article continues below.
When it does look like Dita is about to listen to her new owners and leave, she makes a mad dash back to the same spot where she laid earlier. "Oh my god, it's making me cry," Theresa says in the clip as she continues to film the upset pooch.
The emotional story has gained media attention and was recently picked up by Inside Edition in the US. The new owners were eventually tracked down where they explained the story in full.
Theresa explained that Dita rarely left her mother's side and was even smuggled into hospital to comfort her when she was trying to recover from heart failure. She explained that whenever she visits her mother at the graveyard, Dita always comes along for the ride. And, amazingly, the dog always runs to the very grave where her mother was buried. Once there, Theresa and Mike have a difficult time getting the pup to leave.
Theresa even suggested that it could be her mother's spirit that is attracting Dita to the same spot. It's not the first time in history that a pooch has remained loyal to its owner beyond the grave.
The Australian blockbuster film Red Dog is based on a dog who travelled throughout the Australian outback in search of its beloved owner. In the Scottish city of Edinburgh, there's also the famous Greyfriars Bobby statue, commemorating a Skye Terrier that watched over his owner's grave for 14 years before he died himself.
Ad. Article continues below.
People have flooded the internet with their reaction to Dita's loyal behaviour. One comment read: "There is so much about dogs that we will never understand." A second person wrote: "Amazing how the dog knows which grave is her master's. I'm in tears." A further message read: "I love dogs. So loyal and sweet. This makes me cry."
What do you think? Do you have a close bond with your pet? Have you ever seen a dog or cat behave in a way like this?
---
With Facebook removing news sites from your feeds we ask that you sign up for Starts at 60's emailers here. And to keep us on your wall, join some of our new Facebook groups and clubs:

News Junkies Club – Australia
News Junkies Club – USA 

See news on the change and links to all our other clubs and groups here.