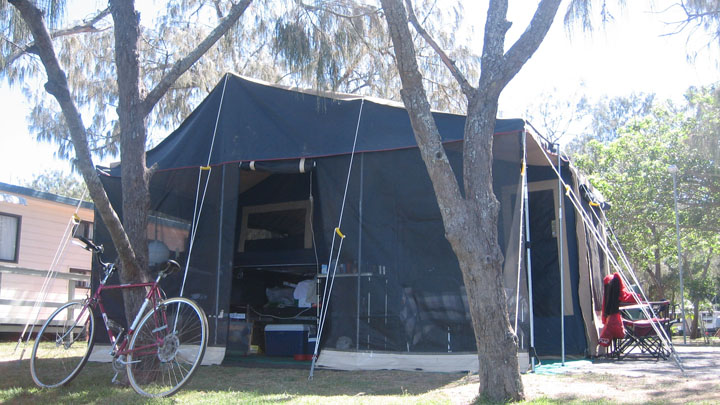 When the kids came on the scene, we took the next step in our camping lifestyle and bought a 6 person tent and a large tarp and so much other "stuff" we could have opened a camping store! We made the mistake that I'm sure others make – we fell prey to all the you-beaut gadgets and "must have camping items" that were now in plentiful supply in camping stores. Over the following years we added to our camping equipment (thanks to camping and caravan shows) until we got to the stage where it took us 4 hours to set up a full camp and of course the same amount of time to pull it all down and pack up! It's amazing how much extra gear you need when you have kids! Those family camping holidays were wonderful and we have some lovely memories of time spent in the bush and at the beach.
On one occasion, we had just finished setting up camp on a property at Goomburra (Qld) and decided to go and get our water from the National Park. As we were about to leave, a car pulling a camper trailer drove past our campsite, looking to camp in the spot we'd snapped up. We felt quite smug about getting the spot first, until 15 minutes later when we drove into the National Park to find that same car parked, camper trailer set up and the happy campers already in their camping chairs with cold beers in their hands! Who's smug now?! After our 4 hour set up this sight was enough to turn me a very dark shade of green (with envy). Hubby noted the phone number displayed on the spare tyre cover of that camper trailer and within a couple of weeks our tent was on the shelf under our house and we had a brand new camper trailer in our carport!
That camper trailer was good to us. We had so many great holidays in it, with the kids without the kids and with a dog in tow. It really was fabulous. But as you get older heaving great weights of canvas off the back of a trailer becomes a bit more difficult so it was time to move on to the next level of camping. Off we went to a camping show, "just to have a look". You probably know where this is going… Yes, we walked away having bought a Jayco Swan campervan. Now we were living! Again, we've had a lot of fun and some great escapes in this little beauty and we're still hitting the road with it as regularly as we can get away.
We have discovered a rather wonderful feature that a lot (though not all) of caravan parks have these days. That is, the ensuite site! Yes, your very own ensuite that you pull up next to and there's no more wandering through the caravan park in the middle of the night in your PJs! However, quite typically, I managed to sleep right through the two nights that we had this privilege – isn't that the way the cookie crumbles?! I must say, though, it was great being able to stumble straight from sleep into a hot shower without the entire caravan park seeing my "bed hair" first thing in the morning!
Of course, this experience now has us thinking it'd be just the bee's knees to have a caravan with an ensuite. Yes, the next step up is looming on the horizon and it may just be the final purchase if we get it right – maybe!
Camping has certainly come a long way since we first pumped up our first air bed! The beauty of camping is that there are so many choices these days.You can be as basic as you like – and that can be a lot of fun, especially when you are young. There seems to be a set-up that will suit just about any budget and any lifestyle requirements. So whether you fancy yourself as a "roughing it" type of camper, just throwing down your swag, or a luxury-seeking camper, it's all out there waiting for you.
To many people, the word camping fills them with dread but it really is a great lifestyle. Fishing, boating, kayaking, surfing or just plain relaxing all go hand in hand with this carefree way of life. We've met some lovely people whilst camping and there is a real camaraderie amongst campers – especially the grey nomads – which is lovely to see at a time when it would be easy to feel isolated and lonely. We live in such a beautiful country so why not give camping a go and get out there and enjoy the privilege of living in one of the most spectacular places on this earth? Keep an eye out for those Jayco Swan campervans – we may just see you on the road. That is, until the next caravan and camping show!
Are you a camper and where's your favourite spot to camp? Would you consider giving camping a go?