Has Tony Abbott been practising the onion trick?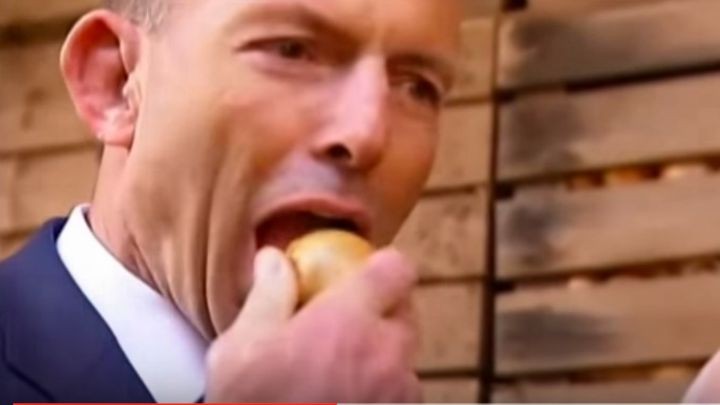 Early in 2015, Tony Abbott shocked farmers, Australians and people around the world when he unflinchingly bit into a brown onion, skin and all.
The Prime Minister was visiting an onion farm and said he wanted to show his support for the agricultural product of the area. "You know, I enjoy onions. I normally have them cooked on the barbecue though," he said in an interview after the event.
Bernard Keane, political editor of the website Crikey, which is not famous for supporting Mr Abbott, tweeted at the time: "OK he ate a raw onion. OK. I think I actually respect Abbott more now."
Today it has been revealed that the Prime Minster may have been practising the onion trick for a number of years, or at least building up a resistance to the raw, pungent vegetable.
Ad. Article continues below.
Footage from 2011 shows the PM munching on a raw leek and, judging by the look on his face, he's just not that into it.
While the world has been less slow to react to this latest onion-family eating escapade by the Prime Minister, it does help to explain the seamless, unflinching way he bit into that brown onion.
Well played, Tony.
Perhaps the big controversy here is: is that a leek, or a very large spring onion. Take a look and tell us what you think.
https://t.co/2fGdha4Po5 THIS VINE OF TONY aBBOTT EATING ANOTHER RAW ONION IN 2011

— Ariel Ries (@cousineggplant) August 12, 2015
What do you make of the Prime Minister's onion eating skills? What other pub-worthy skills have our previous PMs displayed?