Has Q&A signed its own death certificate?
The ABC boss has found himself having to apologise to the Prime Minister again after producers of Q&A let a seriously offensive Twitter message slip through the filters and appear on air in a live feed.
The Tweet in question was reasonably innocuous. The problem was the messenger's user name, or Twitter handle, which you can see in the image and Tweet below (please don't make us say it):
i prefer ones twitter feed to their biographies #qanda

— Gregg Schurch (@AbbottLovesAnal) August 24, 2015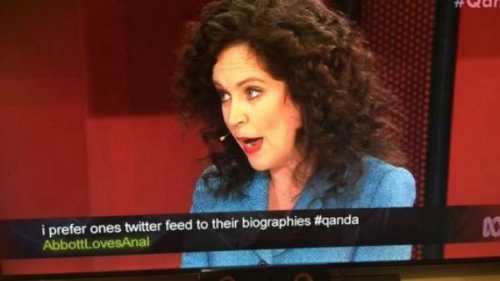 Since going to air last night, a hashtag of the same phrase has sprung up and has trended all day. Here's what some people had to say about it:
It's an absolute disgrace that #AbbottLovesAnal is trending. Shame Australia. Where's your respect? #auspoI #qanda

— Miranda Divine (@mirandasdevine) August 25, 2015
Ad. Article continues below.
So this week's self inflicted pain for Abbott govt is going to be over reaction to #AbbottLovesAnal #auspol pic.twitter.com/LXPqzAZzgP

— Shane (@shayendexter) August 25, 2015
poor bugger, always gets the rough end of the pineapple #AbbottLovesAnal

— Daily Terroir (@johnnybridge2) August 25, 2015
Ad. Article continues below.
Communications Minister Malcolm Turnbull phoned ABC boss Mark Scott early this morning to demand an apology, describing the call as a "Groundhog Day moment" and the tweet as "another unedifying incident at QandA".
Mr Turnbull said, "The tweet should obviously never have been put on the screen and the fact that it was underlines the need for better supervision of the program."
Reports have emerged that Mr Scott sent a direct apology to the Prime Minister…. by text message. Mr Abbott, who is in the Torres Strait at the moment, told reporters, "Look, I haven't had a chance to respond to the text message that I had, because it's been a very busy morning."
He said he thought Q&A was "a bit out of control".
The incident occurred during an otherwise harmless show, just days after the Prime Minister lifted the ban on frontbenchers appearing on Q&A after the Zaky Mallah incident. The program is still under investigation for that poor editorial choice.
Ad. Article continues below.
In a statement, an ABC spokesman said the program handles a high volume of tweets during the program and this particular message was not published on purpose. He said the ABC regrets any offence the tweet may have caused.
The Twitter account, pictured below, appears to have been made on August 17. It uses Tony Jones' images for a profile picture and has tweeted 85 comments about Q&A. 

Can Q&A recover from this latest transgression? Is it out of control?