Handwritten notes reveal how George Bush really reacted to 9/11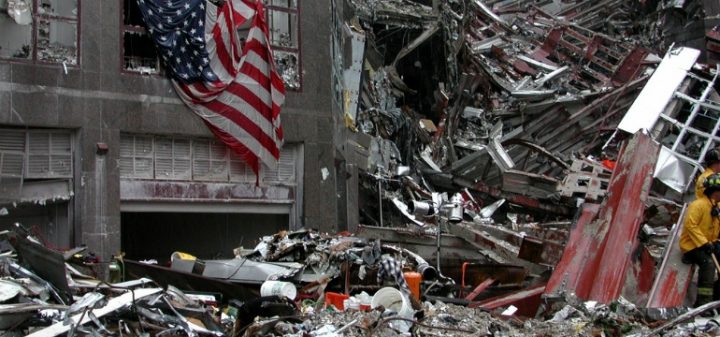 Fifteen years after the 9/11 attacks, US press secretary Ari Fleischer has revealed his six pages of scribbled notes from air force One to Yahoo News and Reuters.
Fleischer told Yahoo that two sections are redacted — at 10:37 a.m. and 10:41 a.m. — when he wrote down the location of secure sites where Bush's daughters, Barbara and Jenna, were taken.
The note starts when top political adviser Karl Rove tells the president about the first crash. The entry is labelled 8:45 a.m., a minute before the actual time of the first attack, and then skips to 9:45 a.m., with Bush aboard Air Force One.
"Sounds like we have a minor war going on here. I heard about the Pentagon," Bush tells Vice President Dick Cheney.
"We're at war," Bush tells congressional leaders by phone a few moments later.
Ad. Article continues below.
10:20 am: An entry notes that Bush "authorised shoot down if reason" — a reference to the president deciding that, if a hijacked plane was perilously on course to a potential target, fighter jets could open fire.
The false threat to Air Force One — "Angel is next" — then comes in from the White House at 10:32 a.m.
10:37 am: Bush asks Card about Barney. "He's nipping at the heels of Osama bin Laden right now," Card replies.
Five minutes later, Fleischer writes that Bush's daughters are safe: "girls removed 2 safe house."
Officials then receive word that a plane "has crashed in the vicinity of Camp David," but Rove quickly corrects that to "50 [miles] outside of Pittsburgh."
10:41 am: Bush is told his daughters were moved to a more secure location. "How did they take it?" he asks. "They wanted 2 stay in their apartments," an aide responds.
10:55 am:Rove says that reports of a car bomb at the State Department were wrong.
11 am: Bush makes the decision to take US forces to the increased DEFCON 3 state of readiness.
12:25 pm: Bush tells Cheney who was at the air force Base in Louisiana: "I think it's important 4 ppl 2 see the gov is functioning because TV shows our nation has been blasted and bombed. Gov is not chaotic. It's functioning smoothly. We're going 2 get the bastards." And, later, the president declares, "It's the new war. It's the faceless coward that [attacks]."
Ad. Article continues below.
12:40 pm: The president says, "I can't wait to find out who did it. It's going to take a while + we're not going 2 have a little slap on the wrist crap."
Bush talks with Democratic Sen. Chuck Schumer at 12:55 p.m. "We'll come together. God Bless."
He then speaks with Defense Secretary Donald Rumsfeld, saying it will soon be up to the Pentagon "to respond."
Another inaccurate report comes in at 1:05 p.m. — "high-speed object heading 4 POTUS ranch" in Crawford, Texas.
1.25 pm: Bush says, "I want 2 go back home ASAP. I don't want whoever this is holding me outside of Washington."
1:35 pm: He says "this administration will spend whatever is necessary 2 find, hunt down, and destroy whoever did this."
Bush speaks to New York Mayor Rudy Giuliani and Gov. George Pataki by phone at 2:25 p.m., promising to do "anything we can do to help you." He also warns about "some possibility of a second wave" of attacks.
2:58 pm: Bush tells an aide "we need 2 get back to Wash. We don't need some tinhorn terrorist to scare us off. The Am ppl want 2 know where their dang P is."
4:26 pm: Bush tells his personal military aide that he's going back to Washington.
4:39 pm: After a stop at Offutt air force Base in Nebraska, Bush speaks to first lady Laura Bush: "I'm coming home. See you at the White House. Love you … go on home."
He adds, "If I'm in the WH and there's a plane coming my way, all I can say is I hope I read my bible that day."
Are you surprised, reading these released notes?