Group slammed on social media after being kicked out of Woolworths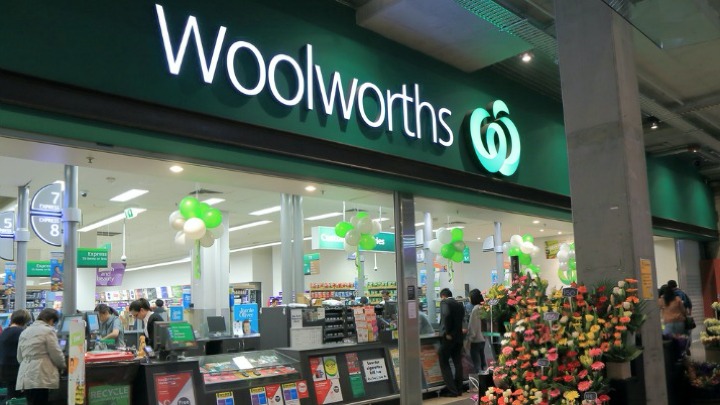 A group of hardline vegan activists have been thrown out of a Woolworths for placing stickers about cows being killed around the store.
The protesters, calling themselves Anonymous for the Voiceless, marched into a store in Melbourne and put the stickers on dozens of meat and dairy products.
A video taken by the demonstrators appears to show a Woolworths manager asking them to stop vandalising good, only for them to refuse and call him a "f***ing loser".
The footage, posted online by 'animal liberationist' Paul Bashir, shows the men and women from the group placing the stickers on ice cream, chocolate and beef.
A man who appears to be a member of Woolworths staff approaches the group, who are all dressed in black hoodies, to ask them to leave.
Ad. Article continues below.
One of the group, whose face is not seen, is heard refusing and saying that they have only come to 'tell the truth'.
"You have no right to come into a place of business and do this, so goodbye," the staff member replies.
When they refused to leave, he tells them to "go and get a job or something".
"We've got a higher-paying job than you, you f***ing loser," one of the protesters spits back.
Insisting they are "educating people", the activists walk around the store placing the stickers on products, including some that are already in shoppers' baskets.
Ad. Article continues below.
At one point the staff member takes one of the stickers away and crumples it up, leading a female demonstrator to complain that he is destroying her "private property".
The protesters continue to insist that they do not have to leave, but the video ends not long after this, suggesting they did exit the store.
The video has garnered a largely negative reaction, including from fellow vegans.
"Nice job making vegans look to be a bunch of a**holes," one YouTube user said.
Another, wrote: "You know, I find the philosophy behind veganism is interesting but sadly, the loudest voices behind the movement are total yobs."
Ad. Article continues below.
Another commenter said: "Why are y'all picking on some guy working at a store? If you want to be an activist, go try to actually change something, not just inconvenience a guy that's working."
Do you agree with this group's actions or was the staff member right?