Granville train disaster relatives to get what they've waited 40 years for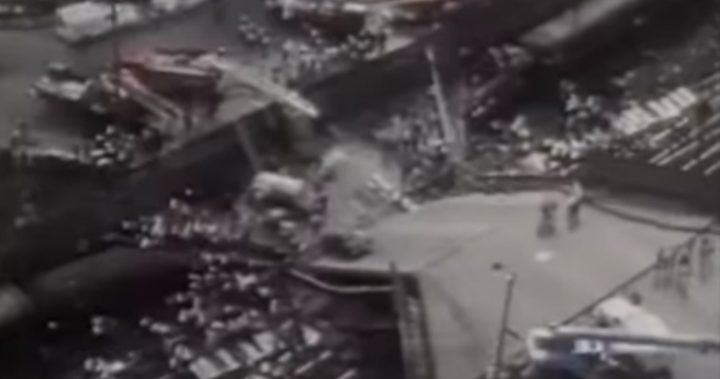 Can you believe we're about to mark the 40th anniversary of the Granville train disaster?
Many of us here in Australia, and particularly those in New South Wales, will remember where they were when they heard about Granville.
83 people died and 213 people were injured when a train derailed and a bridge collapsed onto the carriages near the Granville station on January 18, 1977.
And now, 40 years later, the relatives of those who died are about to get a long-awaited apology from the New South Wales Government.
The ABC reports that the New South Wales Government will apologise to the families of the victims who died in the tragedy.
Ad. Article continues below.
Transport Minister Andrew Constance told the ABC everyone was "deeply sorry for what has occurred".
"Over the years, people have had to cope with what was one of the most horrific tragedies in the nation's history," he said.
"I think it's important that, with a commemoration such as the 40th anniversary coming up, that the Parliament also recognise the life-long effect, the unimaginable grief that people have been left with as a result of Australia's worst train accident.
"It's a tragedy which no-one would ever get over and it's hard for a lot of us to imagine the grief that people experience life-long because of the very nature of that happened."
You might be wondering why the NSW Government is apologising?
Ad. Article continues below.
Well, as you may recall, investigations and inquiries after the tragedy revealed "an alarming lack of investment" in maintaining and replacing ageing rail infrastructure by the government.
So, what about the families of those who died?
Well, several family members have spoken to the ABC about the apology and many say it's about time.
"I feel elated, finally it's a recognition of what we went through," said Meredith Knight, whose father died at Granville.
"Hopefully, when that apology is given in Parliament, it is sincere and genuine with a real compassion.
Ad. Article continues below.
"It might be 40 years, but a lot of people are still suffering."
The NSW Government did pay for the funerals of many victims, including Wendy Miles two young daughters, her father and her step-mother.
"I heaved a sigh of relief and thought: 'Thank goodness, at last'," she told the ABC.
"It's taken 40 years — 40 years is a long time for someone to say what they need to say."
Hopefully the families will be able to get some more closure after all this time.
Do you remember this tragedy? Where were you when you heard about it?