Government slammed on Q&A for its "cruel policies"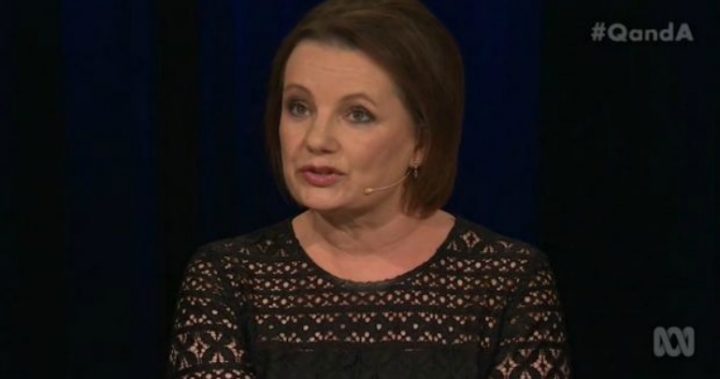 The highly controversial new policy proposed by the Government regarding asylum seekers was in the spotlight on last night's Q&A, and Health Minister Sussan Ley was was the representative tasked with fielding questions about it. 
Ms Ley was unapologetic as she stood by the main topic of discussion, the Government's plan for preventing asylum seekers from ever entering Australia. "It is effectively giving a legislative intent to what is policy at the moment, which says if you are processed in one of those offshore centres (Nauru or Manus Island) you will not come to Australia. Now, that's a policy, as I said, but what we're doing is legislating it."
She had her wires crossed, however, regarding her party's intention of sending refugees already in Australia on bridging visas away under the new laws. When she said that none of these refugees would be affected, presenter Tony Jones was quick to correct her, saying the office of Immigration Minister Peter Dutton had directly contradicted that statement and said that, yes, they could be banned.
Ms Ley seemed to backtrack and said, rather, a "relatively small number" of people who were previously in overseas detention who were now in Australia might be affected by the new laws. She was unable to give a figure, but Jones said it could be as many as 300 people.
Ms Ley said, "what we want is people in Manus and Nauru to be resettled if they're genuine refugees or if they're not found to be genuine refugees, to return to their homes so that we can bring (to Australia) the genuine refugees."
Ad. Article continues below.
Victorian chef Stefano De Pieri, who has a restaurant in Mildura, turned on the minister for her support of the Government's policy.
"It sounds like fable. You're telling us an amazing story to hide your cruelty. You're cruel," he said.
"You're keeping people in limbo for years and years. After they've crossed the ocean and have been very brave, you haven't got the heart to accommodate them in Australia … and you're going to deny, forever, their ability to perhaps join with friends and family in Australia?
"I mean, who invents this cruelty?"
Mr Fitzgibbon voiced a similar opinion to that of Labor leader Bill Shorten, and said it could mean a young asylum seeker who had arrived by boat and denied entry to Australia but who then became a successful surgeon or politician in another country, would never be welcome to even visit these shores. He said he believed this was a "policy without principle."
We want to know your thoughts today: Should the Government reconsider their policy of a blanket ban on refugees? Or is this the right way to go?