Give dozing truckies an electric shock to stop road carnage: Minister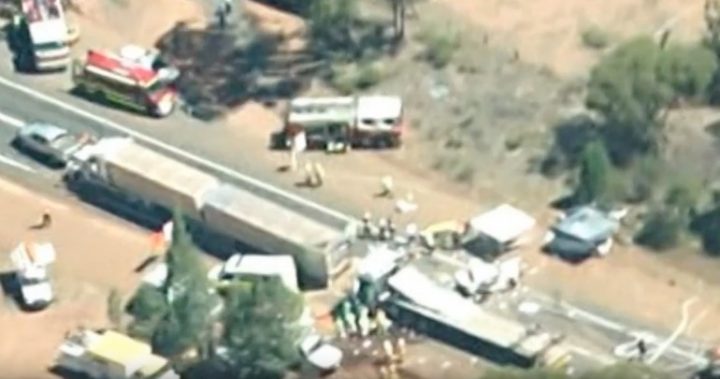 Technology that allows an electric shock to be administered to dozy drivers could be a way of preventing horror road accidents, New South Wales' roads minister has proposed, according to reports.
Numerous outlets reported the surprise comments by Melinda Pavey, which were apparently made to ABC radio, in response to a 45 per cent increase in crashes involving heavy vehicles in between 2016 and 2017. Most recently, two people were killed after a truck ploughed into cars that were waiting at road works near Dubbo in NSW on January 16, taking the road death toll for the previous 24 hours to five people.
The audio of Pavey's ABC report wasn't available but multiple media outlets reported that the minister said that technology was available that could give drivers an electric shock if they stopped paying attention to the road for mere seconds.
"The technology now is so advanced, a driver can be driving and get an electric shock if they look away from the windscreen for more than two seconds," she said, according to multiple reports.
Police have not yet determined what caused the fatal Dubbo crash that ended up involving two trucks and four cars, but have reminded drivers to "rest when they need to rest" and to plan fatigue-management into their trips.
Ad. Article continues below.
Pavey wasn't entirely anti-truck, saying in other interviews that truck drivers had a difficult job that was vital to the wellbeing of consumers. She also cited the fact that 65 per cent of accidents involving heavy vehicles were not the fault of the truck driver. "We must drive behind a truck or beside a truck with a view that they can't see us," she said in a separate ABC interview. 
Spike in accidents has Transport Workers Union concerned, but where is the problem and why.. and what's the fix? Listen here. #abcPM @TruckAustralia + @transportworker https://t.co/r74U187RVU #abcPM @abcnews

— Linda Mottram (@LindaMottram) January 16, 2018
But that didn't stop the Transport Workers Union from becoming angry over her electric-shock suggestion. The union has blamed big retailers such as the supermarkets for putting unreasonable demands on transport companies on delivery times, forcing drivers to stay on the road for excessively long periods. Low pay for drivers also contributed to their long working hours, it said.
The union's NSW state secretary, Richard Olsen, said in a statement that instead of blaming drivers, Pavey should look at the unfair and extreme working conditions that her government refused to address. He called the prospect of effectively using a cattle prod on drivers as "deeply offensive".
Ad. Article continues below.
"The necessary shared responsibility isn't being demonstrated by companies and government," Olsen said.
In only 24 hours, five people in NSW have been killed in three truck-related crashes. Rather than address the extreme and unfair working conditions that are causing truck deaths, NSW Roads Minister @melindapaveyMP has seriously suggested *electrocuting drivers behind the wheel*. pic.twitter.com/ZGmzJrEAFF

— TWU NSW (@TWUNSW) January 17, 2018
What's the right answer on this – technology to prevent drivers falling asleep, tougher rules on retailers' demands of transport companies, or something else? Do you believe heavy vehicles are a greater danger on the roads than the union says? Or do you think car drivers bear much of the responsibility for accidents involving trucks?