Gine Rinehart has a big reason to celebrate today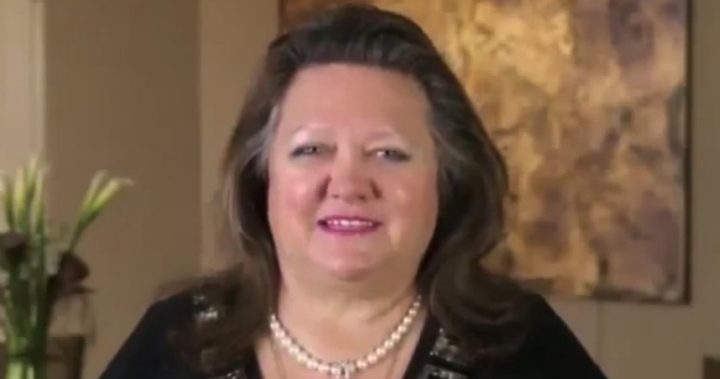 You might remember hearing about Gina Rinehart's bid for the Kidman & Co cattle empire?
Well, today she's finally heard the result – and she's sure to be smiling!
Treasurer Scott Morrison has approved a more than $350 million joint bid placed by Outback Beef – a company owned by Gina Rinehart's Hancock Beef and a Chinese based real estate company.
He released a statement, declaring that the news meant the cattle properties would be majority owned by Australians.
"Consistent with the recommendation from the Foreign Investment Review Board (FIRB), I have decided that the acquisition of Kidman as proposed would not be contrary to the national interest and will be permitted to proceed as proposed," Morrison said.
Ad. Article continues below.
"Outback Beef will increase herd size by 20,000 head of cattle over the next 18 months.
"Outback Beef has indicated it will invest up to $19 million in capital improvements to increase efficiency and carrying capacity. Importantly this investment will also achieve the creation of 35 new full-time permanent jobs by June 2018 while also employing many more new contractors and short terms specialists.
"This increased employment will be met by engaging local populations as far as possible, including Indigenous employees."
Read more: Gina Rinehart teams up with Chinese to try and buy huge Aussie cattle property
Rinehart won't own all of the Kidman & Co properties however.
Ad. Article continues below.
The largest station, Anna Creek, and another outstation, The Peake, have been bought by an Australian farming family – the Williams family.
"Currently Kidman is 33.9 per cent foreign owned," Morrison said.
"With the sale of Anna Creek and The Peake, the proposal I am approving today represents a significant increase in overall Australian ownership from 66.1 per cent to 74.7 per cent."
The sale puts to an end an almost two year process, which has put foreign ownership in the spotlight.
Several attempts to buy the Kidman & Co empire by Chinese investors were shut down by the government.
Ad. Article continues below.
At one stage there was also a rival bid to Rinehart's, made by local graziers, who eventually withdrew their bid after easily being outbid by Rinehart.
Read more: Gina Rinehart takes big business a healthier route
The treasurer said foreign investment was welcomed in Australia when it was consistent with our national interest.
"Foreign investment has underpinned the development of our nation and we must continue to attract the strong inflows of foreign capital that our economy requires," he said.
"We will continue to welcome and support foreign investment that is not contrary to our national interest."
Ad. Article continues below.
When Rinehart's bid was first announced a few months ago, it had the support of many people including Pauline Hanson.
However, there were also people critical of the bid, particularly because it had some foreign investment involved.
What do you think about this decision? Are you glad Kidman & Co is remaining in mostly Australian hands?