Gina Rinehart teams up with Chinese to try and buy huge Aussie cattle station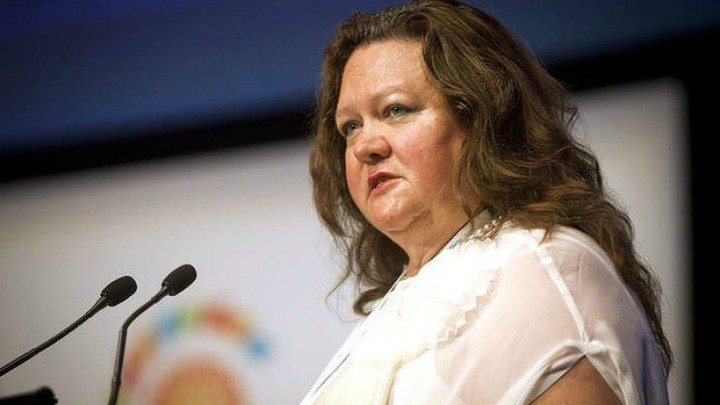 You might remember hearing about the Federal Government rejecting Chinese bids for the massive Kidman & Co cattle property?
Well, now Kidman has a new bidder – and this time it's a joint bid between Australia's richest woman Gina Rinehart and Chinese-owned real estate property Shanghai CRED.
If successful the $365 million joint bid would see Rinehart's company Hancock Prospecting  own two-thirds of the company and the Chinese own a third.
The bid has divided Australian politicians, with independent Jacqui Lambie claiming the Chinese were using Rinehart to buy the property.
Her comments have been dismissed by several politicians including Deputy Prime Minister Barnaby Joyce – a friend of Rinehart's.
Ad. Article continues below.
"I think she's (Lambie) talking out of her hat," he said.
But he insists he hasn't discussed the matter with the mining magnate or her staff.
"I want to make sure this is completely and utterly at arms length," he told ABC radio.
Joyce said he likes the idea of Kidman being Australian-majority owned.
"I want to drive around the countryside, drive around the suburbs saying this is overwhelmingly owned by Australians.," he said.
Ad. Article continues below.
What about the Opposition?
Well, Labor senator Doug Cameron decided to focus on Rinehart's donations to the Nationals party.
"You should ask her best mate Barnaby Joyce. He'll probably know all about what Gina Rinehart is doing," he told reporters in Canberra.
"Gina Rinehart had to hire a tip-truck to tip the money off to the National party during the last election."
Ad. Article continues below.
Meanwhile, former Labor treasurer Wayne Swan said there was some risk in investors with interests such as mining buying the property.
"I think we need to be concerned when we get monopolies taking over large parts of our economy," he told reporters.
But the crossbenchers are mostly in support.
Senator Nick Xenophon described Rinehart's intervention as a middle way which made sense.
He too dismissed Lambie's claims.
Ad. Article continues below.
"I think Gina Rinehart is pretty much uncontrollable," he said.
Xenophon believes foreign investment reforms are still needed though.
Pauline Hanson has also had her two-cents, celebrating on her Facebook page by stating her faith in Gina Rinehart and her love for Australia.
"I believe Australians will be happy with this outcome given the vast majority of the company remains in the hands of Australia," she wrote.
"Ms Rinehart has my full support and gratitude.
Ad. Article continues below.
"I won't stand in the way of an Australian buying the country's largest cattle property. It's a great outcome for Australia."
But some of her supporters were less happy about the support.
"You have to be an idiot to think Gina having anything is a 'good thing'," one of her followers wrote.
"If you say so Pauline but a lot of us have different opinions about Gina, I just hope she keeps it for what it is today," another wrote.
So, what's next?
Ad. Article continues below.
It turns out, Rinehart and Shanghai CRED still have a few hoops to jump through first.
The sale will need to be pass the test of Australia's foreign investment regime.
It will also need to be approved by the Chinese government.
What do you think? Do you support Gina Rinehart's joint bid with the Chinese company? Or are you concerned?