Get on the right track with these scenic train journeys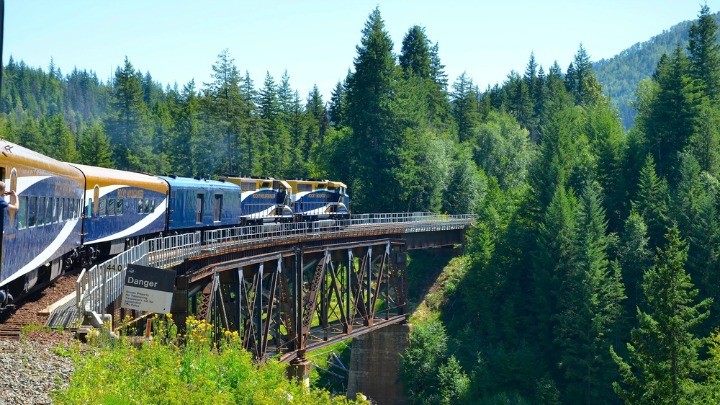 Taking a train ride through the snow-capped mountains in Europe or the colourful streets of Asia in one of the best ways to soak up the scenery in a new country and explore everything on offer.
It's also a great way to see as much of the country as possible while still having the chance to stop off at places you'd like to explore further.
We've put together a list of some of the most awe-inspiring train journeys to inspire you and get you in the mood for your next holiday. Take a look and tell us which is your favourite!
Royal Scotsman
Known for its gorgeous interior and first class menu, the Royal Scotsman is one of the most luxurious ways to see Scotland. You'll enjoy spectacular views of rolling hills and historic castles as you twist through the countryside in a cosy cabin.
Ad. Article continues below.
The train leaves from Edinburgh and journeys across the Highlands to the stunning northwest coast. You'll be able to stop off along the way for a refreshing walk, clay pigeon shooting, or a taste-test at some of the country's most famous whiskey distilleries.
Meals on the train are top-notch, while cabins are fitted out with beautiful dark wood and classic features. You can jump on board between April and October and choose between several routes around the Highlands.
Rocky Mountaineer
A train ride through the Rockies is a must-do experience for many people travelling through Canada who want to take in the icy mountains, deep blue lakes, vast deserts and stunning wildlife. The train has a stunning glass viewing dome allowing you to get the best view of your surroundings, from top to bottom.
You can board the Rocky Mountaineer in Vancouver and travel all the way through to Calgary, stopping along the way at ski resorts and local towns. The train carriages are a social affair with guests making conversation and friends along the way.
Ad. Article continues below.
Indian Pacific
If you're looking to keep it local, the Indian Pacific is the perfect way to enjoy the picturesque landscape of Australia as you travel from Perth to Sydney in style. The train takes you through mining towns and bushland and the staff on board pride themselves on delivering impeccable service to all of their customers.
The are two types of cabins to choose from – platinum and gold – and both offer fantastic food and wine as well as modern ensuites and amenities.
Venice Simplon-Orient-Express
If luxury is your thing, look no further than the Art Deco Venice Simplon-Orient-Express. This classic journey is the epitome of old-school holiday making, with a Michelin-grade menu, a baby grand piano, and crystal glassware to set the tone.
Ad. Article continues below.
There are three 1920s style dining cars where the gentlemen are expected to wear dinner jackets and women arrive in pearls and diamonds. The scenery around the train covers everything from London's Victoria Station where you depart to the beautiful Austrian city of Venice where you'll end your journey.
Machu Picchu 
Travel to one of the world's most visited and revered sites on board this relatively new train experience. Peru Rail will take you through the gorgeous Sacred Valley as you make your way to the historic Machu Picchu. This destination can sometimes be difficult to get to so an easy train ride to the site is a welcome change for many tourists hoping to visit the area.
The carriages all offer an elegant setting with spectacular food and cocktails as well as live local music on board.
Have you ever been on a train journey holiday? Which of these train trips would you like to try?