George The Prince of Style, bringing our era of traditional babywear back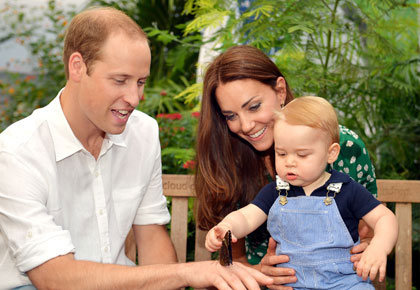 We all remember the rompers and overalls our children used to wear with fondness.  Traditional baby blues and soft pinks, delicate frills and shirred decorations were all the rage.  And it appears our young royal is proving himself the Prince of Style, bringing back tradition to toddler-dressing with the perfect matching ensembles of yesterday capturing the grandness of his role as future king.
And while the whole world is watching in awe, it is worth stopping to look.
 
Prince George wore the exact same outfit as his father to the recent Trooping of Colour Event for the Queens Birthday. It makes you wonder what they did to store it so magnificently without yellow age spots or decline.
 
Prince George wears the same blue outfit as Prince William on their first #TroopingTheColour appearances! pic.twitter.com/FwqEFWv0u9

— British Royals (@britishroyals) June 13, 2015
Ad. Article continues below.
White button up shirts, knitted jumpers, contrasting belts and traditional colours make him look so elegantly well-dressed he could be his mother. There wasn't too many people that noticed him wearing those awful crimes of fashion – Crocs – was there? [In fact there was – with these crocs selling out later that week in high street stores in the UK allegedly).
The Prince George Photo Album: http://t.co/ANjMrnVU8T pic.twitter.com/DdfCFsWdEm

— VOGUE.CO.UK (@BritishVogue) June 20, 2015
See the ADORABLE photos from Prince George and Kate Middleton's day at the polo. http://t.co/GoAIYwlMrb pic.twitter.com/AMvWMimLHj

— Marie Claire (@marieclaire) June 14, 2015
Ad. Article continues below.
Buttoned up collars, complete with piped baby blue trims are the thing of yesterday, taking us back to the youth of our own. But some are not so impressed.
Princess Charlotte is already sleeping through the night http://t.co/vprVjTFlZq pic.twitter.com/9qLnNNDIs1

— VANITY FAIR (@VanityFair) June 11, 2015
Prince George could wear the hottest clothes in existence and be a hipster baby But instead they dress him… in that pic.twitter.com/QhfJ19CTqA

— Lily (@LilyMcgoldrick) May 3, 2015
Ad. Article continues below.
This vest sent London's high street stores into, with it said to have cost just 26 pounds 95.
Boutique owner reveals how the Duchess of Cambridge picks out items when she's shopping: http://t.co/eRjasNlog9 pic.twitter.com/RqCCL44UeK

— HELLO! Fashion (@hellofashion_uk) December 19, 2014
Knee high socks come from an era of tradition far earlier than today. Do you remember dressing your boys in long socks?
Prince George is so cute. But why do they always dress him in such horrible 1980's clothes? Those socks pic.twitter.com/B44LMxuJwS

— Luisa Zissman (@TheLuluLife) December 15, 2014
Ad. Article continues below.
Overalls have been all the rage for boys all over the world since little George started to wear them as a toddler.
Kate Middleton Prince George baby clothes (via @daily_express) http://t.co/MjehlaxG0k Duchess of Cambridge hunts for #bargain

— Bargain Row (@BargainRow) August 26, 2014