George Bush sends social media into meltdown at Trump's inauguration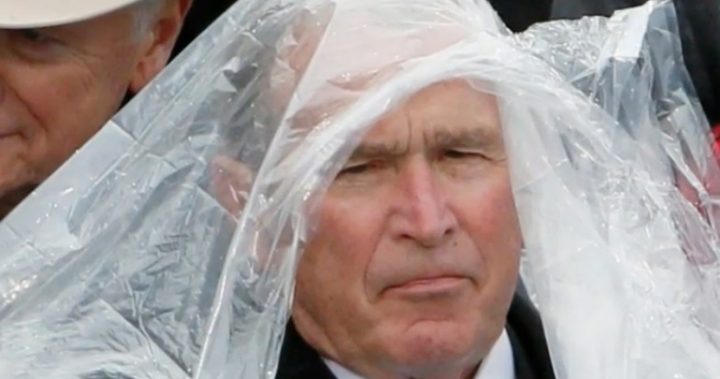 It's been 24 hours since Donald Trump's inauguration.
And while most of what you've probably seen and read about yesterday is about Trump himself, there's another president that has everyone talking on social media.
That's right, former president George W. Bush has made the world the laugh all over again – and this time it's not because of something he said.
Bush was among the attendees at the inauguration, and if you watched the ceremony, you might remember that at one point it started to rain.
So naturally he was given a poncho to put on – and that's where things got hilarious.
Ad. Article continues below.
Photos of Bush looking confused and trying to put on the poncho have gone viral on social media.
They show the former president attempt to put the poncho on several times, getting confused about how it works and eventually just giving up.
Pretty funny isn't it?!
Ad. Article continues below.
While the photos themselves are hilarious, some clever social media users have taken it a step further and turned them into hilarious memes!
Ad. Article continues below.
Hehe!! Did this give you a bit of a giggle?