From Ayers Rock to Uluru – celebrations declared "bittersweet"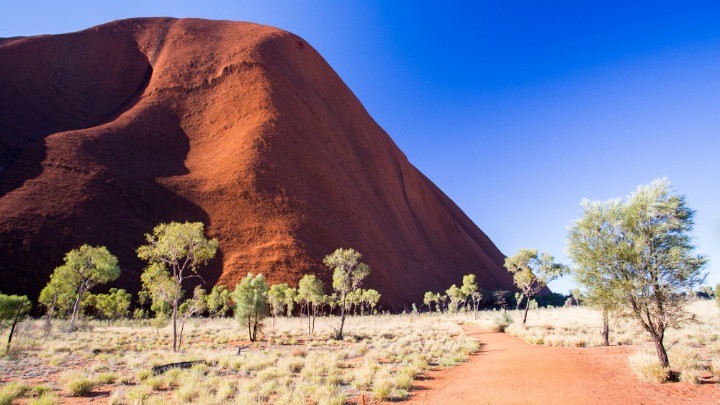 Do you remember when Ayers Rock was handed back to its traditional custodians and reverted to its original name of Uluru? It seems like almost yesterday but was in fact 30 years ago today.
Hundreds of people travelled to the red rock to celebrate the anniversary, including singers from the central Australian women's choir and other choirs.
Uluru handover: Aboriginal women sing hymn on 30th anniversary – video https://t.co/UoDo3lHVT1

— Guardian Australia (@GuardianAus) October 25, 2015

But has the decision to hand it back been a success, despite the strong opposition at the time?
Largely yes, but even today, there are still some issues, and The Guardian reports the federal indigenous affairs minister, Nigel Scullion, described the anniversary as a bittersweet day.
Ad. Article continues below.
While largely positive about what had been achieved, he said successive governments had failed to fulfil one implicit promise: that the Anangu people would have a better life because of it.
Only one tour company in the park is Indigenous-owned, and the local Aboriginal community remains one of high unemployment.
#OnThisDay 1985 – The Australian Government returns Uluru to its traditional owners https://t.co/7lGL6qKUKW #auspol pic.twitter.com/tfp37c9mu5

— NationalMuseumofAust (@nma) October 26, 2015

The 30-year-anniversary has also been seized on by politicians to call for at least constitutional recognition of Indigenous Australians.
Opposition leader Bill Shorten said after the 30-anniversary celebrations it's not a matter of cup half-full or half-empty, but it's a matter of being truthful.
What are your memories of Ayers Rock/Uluru? Have you visited since it was handed back and, if so, did you refrain from climbing it out of respect for the Aboriginal owners and their beliefs?