Four dead, millions without power as Irma pummels Florida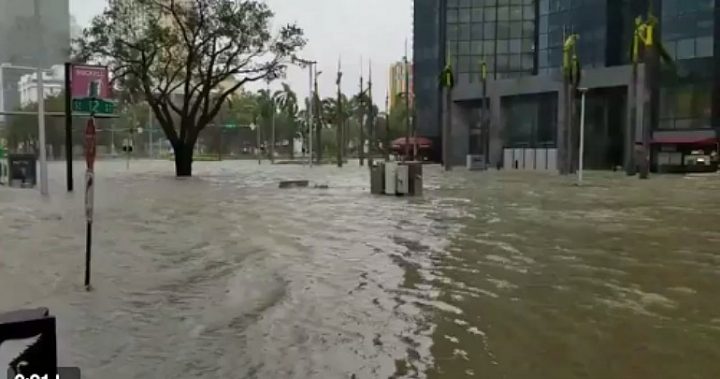 Four people have died and millions are without power as Hurricane Irma rips across Florida, leaving a path of destruction in its wake.
Much of Miami is now underwater as rising sea levels surge into the city's streets, trapping millions inside their homes and shelters.
Irma hit Miami with 209kph winds and is now heading towards the Tampa Bay area on Florida's west coast, where nearly 455,000 residents are preparing for impact.
This is downtown #Miami as #Irma blew the bay into the Brickell Ave. area. The surge is starting to recede as the wind shifts. pic.twitter.com/MZoIVYc7aW

— Mike Seidel (@mikeseidel) September 10, 2017
Ad. Article continues below.
Tampa Bay is particularly vulnerable because the bay acts as a funnel for storm surges, forcing water into narrow channels with nowhere else to go.
Right now the ferocious storm is drawing the ocean away from the coast and feeding the storm surge into other areas.
Barrie Drewitt-Barlow is on Tampa Bay waiting for the worst of the storm to arrive, and told the ABC what he was looking at:
"At the moment, the water on the bay has completely left, so it just looks like … a mud pile just everywhere all over, and what they're all saying is that's all going to flood Miami, but then it's going to surge back," he said.
Video footage from Miami shows a frightening scene, with howling winds tearing through the city's streets and whipping the rising flood waters into a frothy river.
Ad. Article continues below.
This is Miami right now. #HurricaneIrma pic.twitter.com/bhVqJ1bmCP

— Ryan Fournier (@RyanAFournier) September 10, 2017
One couple who had taken shelter inside their store filmed as the water level rose outside their windows and began to seep through the cracks under the door, trapping them inside.
Store owners in #Miami watch as their store is surrounded by a wall of water. What a terrible and uneasy feeling. #HurricaneIrma #Irma @WFLA pic.twitter.com/F0wALvDpJz

— Josh Benson (@WFLAJosh) September 10, 2017
President Trump has described Hurricane Irma as "a storm of absolutely historic destructive potential" and declared major disaster in Florida, which means federal funds will be released.
Have you been following coverage of the storm? Are you or anyone you know affected?