Forgotten footage of heartwarming Olympic moment resurfaces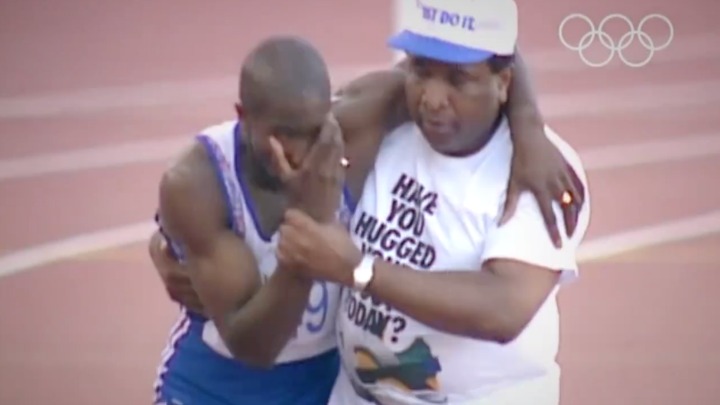 The Olympics are often full of inspiring moments that show just how resilient and unbreakable the human spirit is.
While we are sure to see many remarkable displays of strength and courage over the next few weeks, one moment that has recently resurfaced is that of British sprinter Derek Redmond and his 400m finals race at the 1992 Barcelona Olympics.
Derek was expected to win the race after qualifying with the fastest time in his semi-final heat.
As he kicked of the block with his competitors he was looking strong as he found his stride and headed towards the front of the pack.
Suddenly, Derek's leg gave way and pulled up quickly – his hamstring was torn.
Ad. Article continues below.
While the crowd watched on, with their hands over their mouths in shock, Derek crouched low to the ground with his head hanging.
Then, grimacing with pain, he got back up and started to hobble towards the finish line, determined to finish what he had started.
It was what happened next that really cemented the moment in history though. Derek's father Jim came running onto the track and put his arm around his son to help him cross the line.
Officials can be seen trying to pull Jim off, but he brushes them away and continues to carry his son towards the finish line.
It's a moment that still brings tears to the eyes of many who watch it and shows just what the Olympics are about: strength, courage, unity and perseverance even in the face of hardship.
Ad. Article continues below.
Of course there are many great moments in Australia's Olympics history too, with Cathy Freeman winning her 400m race, and Kieren Perkins coming from behind to smash his record in the 1500m swim to name a few.
On  the first day of the Rio Olympics, it's nice to see everyone celebrating the courage and sportsmanship from countries all over the world.

What are you greatest Olympic memories? Who are you cheering for at Rio?