Also, chocolate contains Phenylethylamine (PEA), which is the same chemical that your brain creates when you are falling in love. So no wonder I LOVE chocolate so much! PEA tells the brain to release endorphins, which makes you feel happy. So it really is ok to love chocolate!
In addition to all of this, vitamins and minerals can be found in dark chocolate. These include potassium and copper which help prevent against stoke and cardiovascular ailments, iron which protects against anaemia and magnesium to help prevent type 2 diabetes, heart disease and high blood pressure.
The recommended amount is about 1-2 squares of chocolate a few times a week. Naturally, eating any food in excess will have a negative effect, including an expanding waist line which can lead to heart disease.
As with all things it is all about balance. I spend an incredible amount of time creating new recipes (which involves lots of sampling!)and  I try to balance my non-review days eating really clean and doing lots of exercise to counter balance it all.
Find your balance and stay happy and healthy. Food is an important part of our lives so remember to enjoy it and have a good time with it, even if it is in moderation!
With all of this chocolate talk here is a quick recipe for you to try!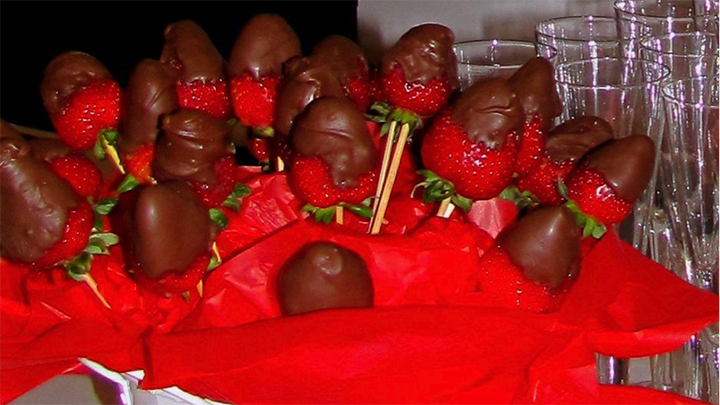 Chocolate covered strawberries.
1. Use a dark chocolate with 80 – 90 percent cocoa content, and melt in a double boiler.
2. Wash some strawberries and dry with some paper towel.
3. Once your chocolate has melted completely, grasp the stem and dip the tip of a strawberry in the chocolate, as you lift the strawberry give is a twist to remove excess chocolate and set on baking paper.
4. You can sprinkle with some crushed nuts or coconut for added taste and texture as well.
These are perfect for after dinner treats, or even arranging into a centrepiece for a special occasion!