First female Aboriginal MP delivers maiden speech in native tongue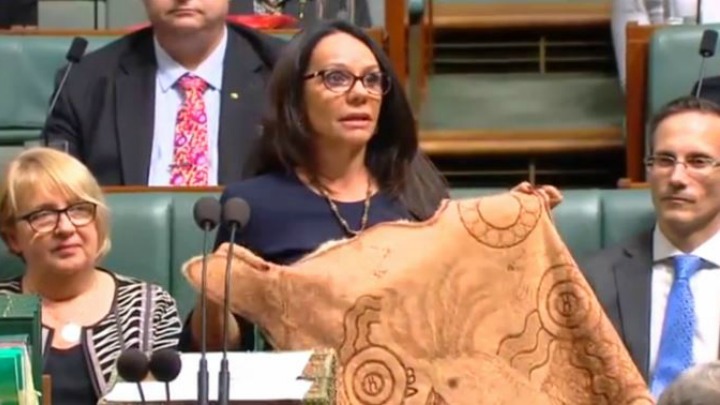 From the first female prime minister (Julia Gillard) to the first Aboriginal representative (Neville Bonner), the first Muslim (Ed Husic) and the first homosexual person (Bob Brown), there have been a lot of firsts in Australian politics. At the House of Representatives, Linda Burney became the first female Aboriginal woman elected and her maiden speech was one to remember.
She was first welcomed by fellow Wiradjuri woman Lynette Riley, who sang a traditional song from the gallery as Burney — dressed in the cloak that details her personal story — took her seat.
The first Indigenous woman to be elected to the lower house is sung into her seat #indigenous #history pic.twitter.com/JPemSpfiOC

— Anna Henderson (@annajhenderson) August 31, 2016
She presented the cloak, which features her clan's totem, the goanna, and her personal totem, the white cockatoo that she acknowledges is 'very noisy', when she told Federal Parliament that she had been deeply moved by her journey to such a "powerful place".
Ad. Article continues below.
"These lands are, always were and always will be Aboriginal land," she said during her speech on August 31.
Burney wants Constitutional recognition so that Parliament and the Australian people could continue on the path towards reconciliation.
"The Aboriginal part of my story is important, it is the core of who I am," she said. "But I will not be stereotyped and I will not be pigeon-holed."
Burney holds the federal seat of Barton, which is named after Australia's former prime minister Edmund Barton, the man who introduced the white Australia policy, and acknowledged that it is now one of the most multicultural in the country.
It begs the question then, if Australia is so multicultural and that multiculturalism extends into Parliament, should representatives from other backgrounds be afforded the same level of ceremony that Aboriginal people are?
Ad. Article continues below.
In a day of firsts with the return of parliament, Western Australian Labor MP Anne Aly became the first Muslim woman to take her place in Parliament and she did so by taking her oath on the Koran.
Aly follows Ed Husic, who became the first Australian MP to be sworn in with the Koran. The son of Yugoslavian migrants became the first Muslim elected to Federal Parliament and made history in doing so saying: "Given my background, there are some people taking a small slice of pride of happiness".
Australia's Government is made up of many cultures — Penny Wong has represented in the Senate since 2002 and she of Malaysian descent; the deputy leader of the Opposition, Tanya Plibersek is the daughter of migrants from Slovenia; and Anthony Albanese revealed recently he has Italian blood running through his veins — but there is no such cultural recognition for these politicians.
Does Australian Parliament need to make more of an effort to recognise cultural diversity in its halls? Share your thoughts on this issue.