Fiji team shows great respect to Princess Anne after historic Olympic win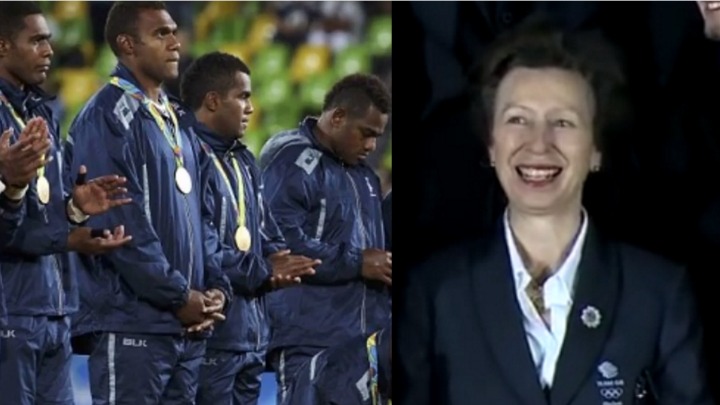 While the British team remained standing as Britain's Princess Anne gifted them their silver medals for winning second place at the Rugby Sevens World Series award ceremony, the Fiji rugby players displayed their deepest respect for the royalty in a different way.
After claiming victory over Britain 43-7, their first Olympic rugby win in 92 years, the twelve Fijians lined up at the podium to receive their medals.
And Princess Anne stepped over to place gold around their necks, each player knelt down on the podium and clapped three times out of respect for the royal.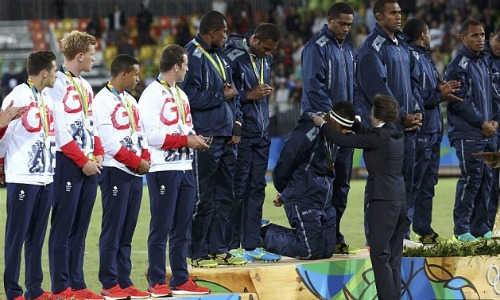 The winning team was led by captain Osea Kolinisau as they ruthlessly thrashed team GB to bring home their first Olympic rugby win in 92 years.
Ad. Article continues below.
Kolinisau got the first of five first-half tries, two of which converted, for a 29-0 lead that left Britain in the dust.
Fiji's English coach Ben Ryan said, "I'm a little bit lost for words. The boys were on another scale of phenomenal,"
"They were just stratospheric and they saved the best until last.
"They played some high-risk rugby there and they were outstanding and, hopefully, we showcased Fijian rugby and everybody who was watching, maybe even the British supporters, can have a smile.
"It's always been our plan for three years, get them back to number one, win world titles and then claim this first gold medal."
Are you happy for team Fiji and what do you think of their wonderful manners?