Federal pollies fly into Rainbow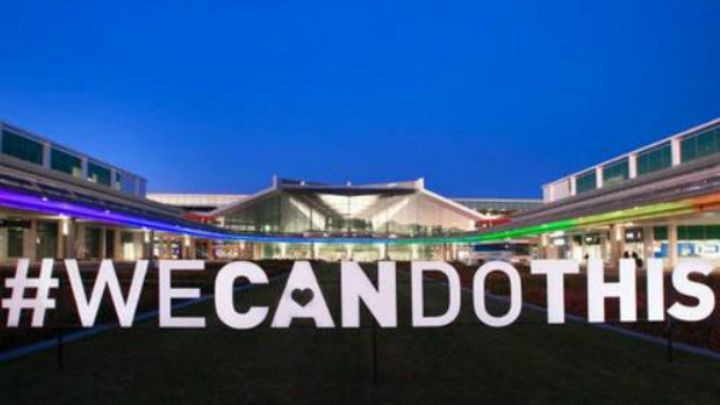 If the mountain won't go to Mohammed, then Mohammed must go to the mountain.
It's an age old adage that describes if one cannot get one's own way, one must bow to the inevitable.
However, as our federal politicians flew into Canberra last night, they could be excused for thinking that on this occasion, the mountain has most certainly come to Mohammed.
Canberra Airport was awash with the rainbow colours of the LGBT movement and Australian Marriage Equality's new national campaign slogan #WeCanDoThis, ahead of a cross-party bill to support gay marriage.
As reported in The Age, the Snow family who own and operate Canberra's airport, hope that their very visual endorsement will add to those of more than 500 other Australian business and organisations to bring about 'the end of "ridiculous" discrimination against same sex couples, including Snow's brother Tom Snow, who married his husband Brooke Horne in New Zealand last year.'
Ad. Article continues below.
The airport's Managing Director, Stephen Byron said, "it struck me at this time how ridiculous it is that my relationship, and my wife and children, are afforded the protection and support of our government, yet Tom and his family are forced to travel overseas to get married," he said.
"This issue transcends politics".
It seems that it might be corporate Australia, that forces the government to act on this issue.  Australian businesses appear to be more in touch with popular opinion and have weighed in heavily. They know that it is the right thing for their staff and their customers.  Corporates from the Commonwealth Bank, Qantas, Kmart, the AFL, the NRL, SBS, Ten, Virgin and Westpac, have all thrown their support behind Australian Marriage Equality.  The impressive full list, a who's who of corporate Australia, can be found here.
The bill, which is likely to be introduced next week by Warren Entsch MP and co-sponsored by  fellow Liberal colleage, Teresa Gambaro MP, Labor's Laurie Ferguson MP and Terri Butler MP, and  crossbench MPs Cathy McGowan, Adam Bandt and Andrew Wilkie.
The Liberal Party, or should we say Tony Abbott, has not yet decided whether the Liberal Minister will have a free vote or will be forced to tow the Party line, which up until now has certainly been to oppose changes to the Marriage Act.
Ad. Article continues below.
Mr Abbott, maybe it's time to listen to popular opinion; to secure a well timed distraction from Choppergate and its wide-reaching, never ending fallout, and jump on board the bandwagon that both public and corporate corners of the ring are fighting for.
After all, the mountain is coming.  You may as well climb it before it runs you over.
Do you think it's time for our politicians to live and let live?  Should ministers be forced to tow the party line or should they be able to cast their own vote?  If discrimination has no place in Australia, is equality not the pot of gold at the end of the rainbow?