Fans witness heartbreaking moment Chapecoense players' coffins brought back to their stadium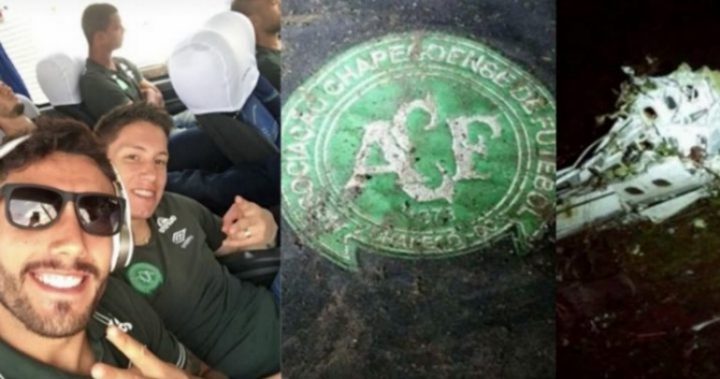 Some 100,000 people, about half of Chapeco's population, took to the streets in the rain and packed into the team's 20,000-capacity stadium to pay tribute to the tragic Chapecoense team who lost their lives in Monday's plane crash in Colombia.
Chapecoense Real had a fairytale season until the plane flying it to the biggest match in its history ran out of fuel and crashed into the mountains outside Medellin. This time, family and friends watch them return to their own stadium, lifeless. As the Hercules cargo planes touched down at the city's airport in pouring rain, fireworks lit up the sky over the stadium in Chapeco. Soldiers wearing berets carried the coffins into the stadium on their shoulders, sloshing through standing water and mud on a field filled with funeral wreaths and flags. 
Mourners packed into the small Arena Conda stadium with more left outside to pay homage to the players.
Architect Alexandre Bledin, 34, said: "I came to pay a final tribute from the fans to our team. I still can't believe what happened."
"I've been here since early morning," said 19-year-old Chaiane Lorenzetti, who said she worked at a local supermarket frequented by club players and officials.
"I'll never see some of my clients again. It's a devastating day that will last forever."
The arrival was delayed by an outpouring of emotion along the way.
The bodies returned as it emerged that Bolivian pilot Miguel Quiroga lied to Colombian authorities about where his plane took off to convince officials he had more than enough fuel to safely conduct his flight in which 71 people died, reports Daily Mail.
Ad. Article continues below.
According to Quiroga's original flight plan, it said the estimated journey between Santa Cruz and Medellin was 4 hours 22 minutes. He said his aircraft's endurance was also 4 hours and 22 minutes – giving him absolutely no margin for error.
But the document passed to Colombian authorities claimed his LAMIA aircraft departed Cobija, which is almost 500 miles closer to Medellin – giving him an additional 90 minutes of fuel.
Coffins were laid out on the pitch for the memorial service at the Arena Conda stadium in Chapeco.
A tent stretched across the width of the soccer field to protect the coffins from the rain. 
Family members and friends could be seen crying under the tents with many hunched over the coffins. On top of the white tent, a sentence from the club's anthem was written for all to read.
Ad. Article continues below.
"In happiness and in the most difficult hours. You are always a winner."
Do you remember any other sports related tragedy this huge? What would you say to the team's families and fans?