Experts worry these tours could mean more shark attacks in Western Australia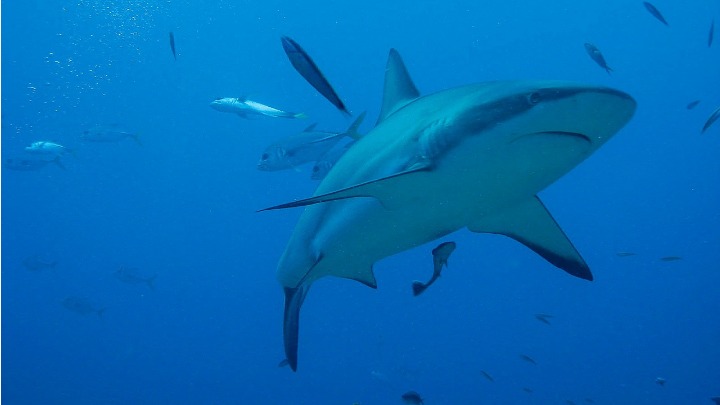 It seems that every other week there's news of another surfer, swimmer or scuba diver being attacked or even killed by a shark.
Last year there were 33 reported cases of shark attacks across the country, according to the Australia Shark Attack File Annual Report, and just last month a 60-year-old woman was mauled and killed by a shark while out diving off the coast of Mindarie in Perth.
So, when experts speak up and warn that some tours might actually increase the likelihood of swimmers being attacked by sharks, people take notice.
As of August this year, tourists will be allowed to get up close and personal with humpback whales and swim alongside them through tours offered in Western Australia's Ningaloo Marine Park.
Recent conservation efforts have contributed to a spike in the local humpback population to around 30,000, which is an incredible feat considering these animals were once on the endangered species list.
Ad. Article continues below.
No doubt the work to save these animals has been positive, but some people are concerned that the increase in their numbers will mean more sharks, too.
Conservationist scientist, Wally Franklin, said that creating tours that invite people to come into close contact with these creatures could ultimately be harmful to both the whales and the tourists.
"[One] risk factor is that sharks do follow humpback whales," Franklin told the Guardian.
"Look at the incidence of shark attacks that are occurring on the east coast of Australia. I wouldn't get in the water with them under any circumstances."
A recent study also warned people to be extra careful when swimming with whales, because sharks could likely be in the area.
Ad. Article continues below.
"White sharks are known to feed on whales, so caution should be exercised near a whale carcass or other such attractant," the study said.
But Ningaloo Whaleshark Swim, a local company that offers tours in Western Australia and the Ningaloo Reef, says all precautions are being taken to ensure the safety of the swimmers as well as the whales.
"[There are] very specific regulations that serve several purposes, including protecting the whales from harassment, and the swimmers from danger, but also to provide the foundations of sustainable, successful encounters," the website says, adding that the tours offer people the opportunity to experience something truly magical and perhaps even a chance to look at a whale right in the eye.
More than just magic, though, this new industry could lead to a further increase to whale numbers and even boost the tourism industry in the area.
Western Australian environment minister, Albert Jacob, says the safety of the whales and swimmers is key to the development and execution of the tours.
Ad. Article continues below.
Some of the key safety requirements include: only five people will be allowed in the water with one humpback whale at a time, only a maximum of 10 swimmers will be allowed to be in the water per hour and people can get within 30 metres of the mammal while they're swimming, or four metres if they're stationary. Female whales with their calves will be completely off limits for swimmers so as not to cause unnecessary stress.
There's nothing quite like being up close with a humpback whale. Watching it breach and slap its body onto the surface of the ocean has got to be one of the greatest pleasures for animal lovers and marine buffs to witness. But how close is too close?
What do you think? Would you go swimming with whales in Western Australia? Let us know in the comment section below.