Everybody Loves Raymond star announces engagement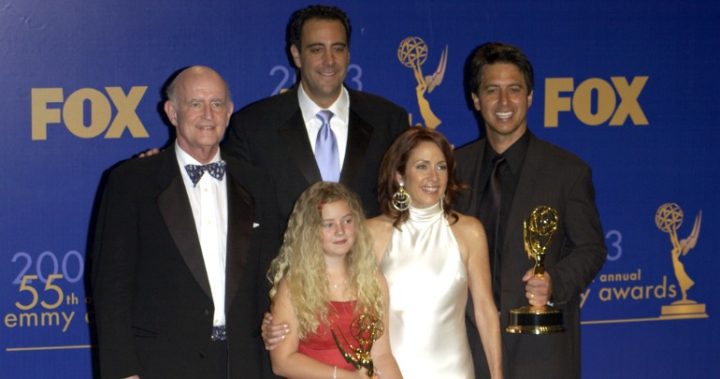 You'll remember him as the policeman brother, Robert, in the United States sitcom Everybody Loves Raymond and now the actor behind who played him is set to wed.
Brad Garrett has made headlines by confirming that he is to wed his girlfriend Isabella Quella… What's so big about that, you ask. Well it turns out 56-year-old Brad is more than 20 years older than his fiancee.
The other big news about this announcement is that Brad and Isabella have actually been engaged for almost 12 months, with Entertainment Tonight revealing that Brad got on bended knee on December 27, 2015.
So grateful to have had this amazing, kind, handsome man as my date last night #TookHomeThePrize #WasntEvenNominated pic.twitter.com/vaYPypdQmq

— IsaBeall Quella (@IsaBeallQ) September 20, 2016
Ad. Article continues below.
Quella accompanied the comedy actor to this year's Emmys, held in September, where she took to social media to share in the love.
While earlier this year she called Garrett the 'love of her life' when she wished him a happy birthday.
When the pair finally tie the knot it will be the second time down the aisle for Garrett, who was previously married to Jill Diven. He has two children with her — a boy, Maxwell, and a girl, Hope.
Joking about the 24-year age gap between himself and Quella, Garrett told Entertainment Tonight even his famous friends tease the couple.
"[Don] Rickles walks up to the table and he looks at her and he looks at me and he goes, '12, 13 maybe, Brad?' And then he looks at her [Quella] and goes, 'You being kidnapped, honey? Blink if you're being kidnapped.' I immediately put her in timeout," he says.
What do you think about one partner being considerably older than the other in a relationship? Do you and your partner have an age gap that 'raises eyebrows'? Tell us about it.