Emotional service to mark the 50th anniversary of the Black Tuesday bushfires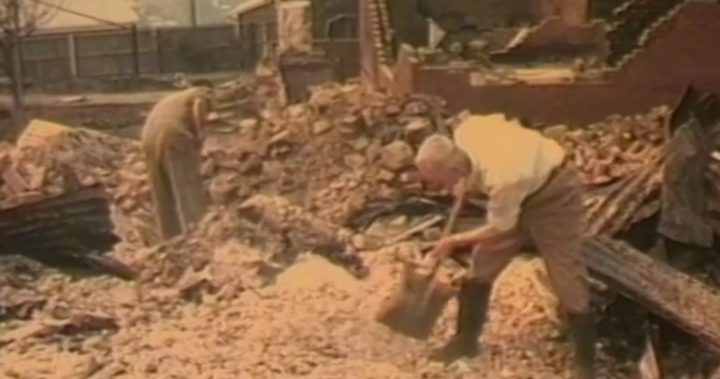 An emotional day of remembrance as those affected by the tragic fires that ravaged Tasmania in 1967. 
It was the state's worst bushfire that almost destroyed Snug.  The Black Tuesday fires took 64 lives and left 7,000 without homes.  Many of those affected were left orphans as parents lost their lives.
To mark the occasion, hundreds of people converged on Snug for a service and plaque dedication.  With emotions raw as this fire left its mark on the land and the people forever.
Today is the 50th anniversary of the 1967 Tasmanian bushfires #BlackTuesday – photos, video, survivor stories https://t.co/U85EPXr7sC pic.twitter.com/QbG00jdgQO

— ABC News Tasmania (@abcnewsTas) February 6, 2017
Ad. Article continues below.
Talking to the ABC, four siblings who lost their parents talked about their pain.  "We were all evacuated to the hall, and we were singing, the teachers and that were pretty calm, and they had the curtains drawn so we couldn't see what was going on".
The church bell that was once a proud part of the local church was recovered from the ashes after the fire and has been made a dedicated monument of the tragedy.
Hundreds of people have gathered in Snug, Tasmania, to commemorate 50 years since the Black Tuesday bushfires @abcnewsTas pic.twitter.com/wSdKmeymce

— Rhiannon Shine (@RhiannonShine) February 7, 2017
The Prime Minister paid his respects during the first sitting of parliament saying, "The disaster received worldwide attention [with] President Johnson of the United States expressing his profound sympathy for the people of Tasmania and all Australians who had suffered as a result of this misfortune".
Ad. Article continues below.
He added, "Time and again in the face of natural disaster Australians show grace under pressure, bravery in the face of danger and rally selflessly without a second thought, to help each other.
"Our thoughts today are with the people of Tasmania. Those who remember, those who suffered loss, those who rebuilt their lives."
Do you remember the Black Tuesday bushfires?  Let us know your memory of them in the comments below.