Emmanuel Macron just got caught in most awkward Trump handshake yet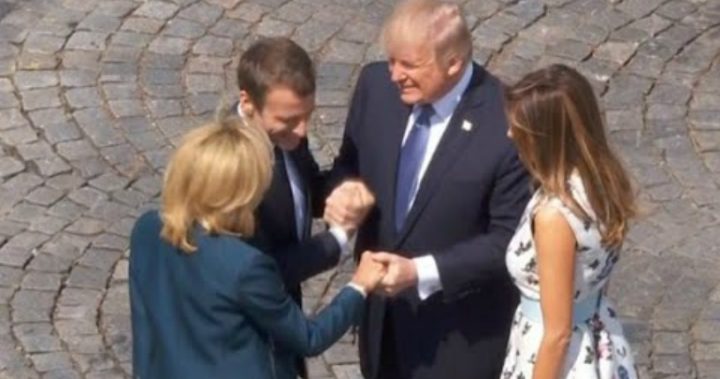 There is never a shortage of embarrassing, awkward, enraging, and downright bizarre Trump moments to share these days. 
One of his stranger habits has to be that awkward handshake.
It's like a power-play in a polite social gesture. Where most men like to make a display of masculinity in the grip of their handshake (after all, no one likes a limp fish shake), Trump likes to grip his partner (or opponent?)'s hand and then pull them towards him with force. This causes them to lose balance, and look weak – and probably dislocate an arm socket, too. 
Read more: Donald Trump posts video of himself violently beating a reporter
It's a standard Trump handshake, and world leaders have come to expect it. Heart throb Canadian Prime Minister Justin Trudeau expertly dodged it when he met with Trump, and Hillary Clinton practiced avoiding his hugs in the lead up to presidential debates pre-election. 
Ad. Article continues below.
Read more: Hillary Clinton practiced avoiding Trump's hugs in debate preparation
It's like world leaders are preparing to avoid physical contact with the US President.
Unfortunately, French President Emmanuel Macron appears to have missed the memo, resulting in him being stuck in possibly the longest and most awkward handshake in history. It lasted a full 29 seconds!
Have a look here: 
Ad. Article continues below.
The two countries' First Ladies look on as though they're just as confused about the ridiculous handshake as the rest of us!
Read more: Let's Talk: Is Donald Trump America's worst president?
Do you think you'd feel awkward getting trapped in a 30 second handshake?