Ellen DeGeneres' heartwarming tribute to the Obamas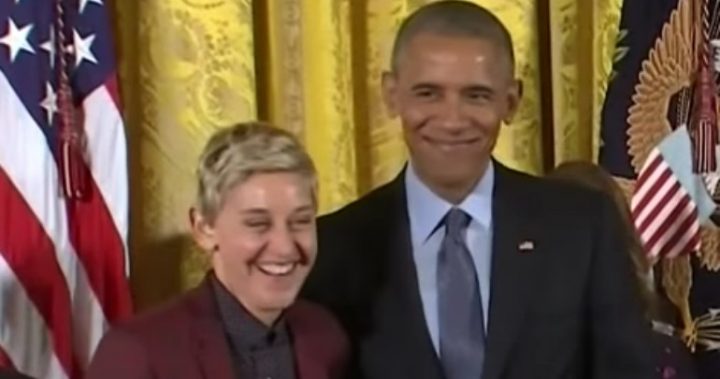 If you're a fan of the Obamas, then chances are you're feeling a little bit sad this week as they leave the White House.
Barack and Michelle Obama has earned themselves many admirers over the years, including many of you here at Starts at 60.
But one of their biggest admirers is talk show host and comedian Ellen DeGeneres and she's paid an emotional tribute to the pair of her show.
If you missed the episode, Ellen did a whole segment on the Obamas – thanking Barack for "changing her life" and praising him for all of his accomplishments while in the White House.
"I want to personally thank him for changing my life," she said.
Ad. Article continues below.
"I am a legally married woman because of him and so is my wife (Aussie actress Portia de Rossi). His courage and compassion created equality for everyone.
"He moved us forward and made more happen in the past eight years than I ever dreamed possible. I love him. I love Michelle."
She also showed a montage of some of her best memories of the Obamas over the years.
Both Barack and Michelle have appeared on the Ellen DeGeneres Show many times over the years, with some hilarious moments – including the time Michelle and Ellen went grocery shopping together.
Watch the heartwarming tribute below and laugh along at some of the memories.
Ad. Article continues below.
Ellen and the Obamas have been close, with Barack presenting the comedian with the Medal of Freedom in an emotional ceremony late last year.
"It's easy to forget now, when we've come so far, where now marriage is equal under the law, just how much courage was required for Ellen to come out on the most public of stages almost 20 years ago," he said at the ceremony.
"Just how important it was not just for the LGBT community, but for all us to see somebody so full of kindness and light—somebody we liked so much, somebody who could be our neighbour or our colleague or our sister—challenge our own assumptions, remind us that we have more in common than we realise, push our country in the direction of justice. What an incredible burden it was to bear, to risk your career like that. People don't do that very often."
Ad. Article continues below.
How sweet is that?! Are you a fan of Ellen and the Obamas? What farewell message would you give to the Obamas?